Top 10 Games Releasing in 2023
Some great titles to look forward to!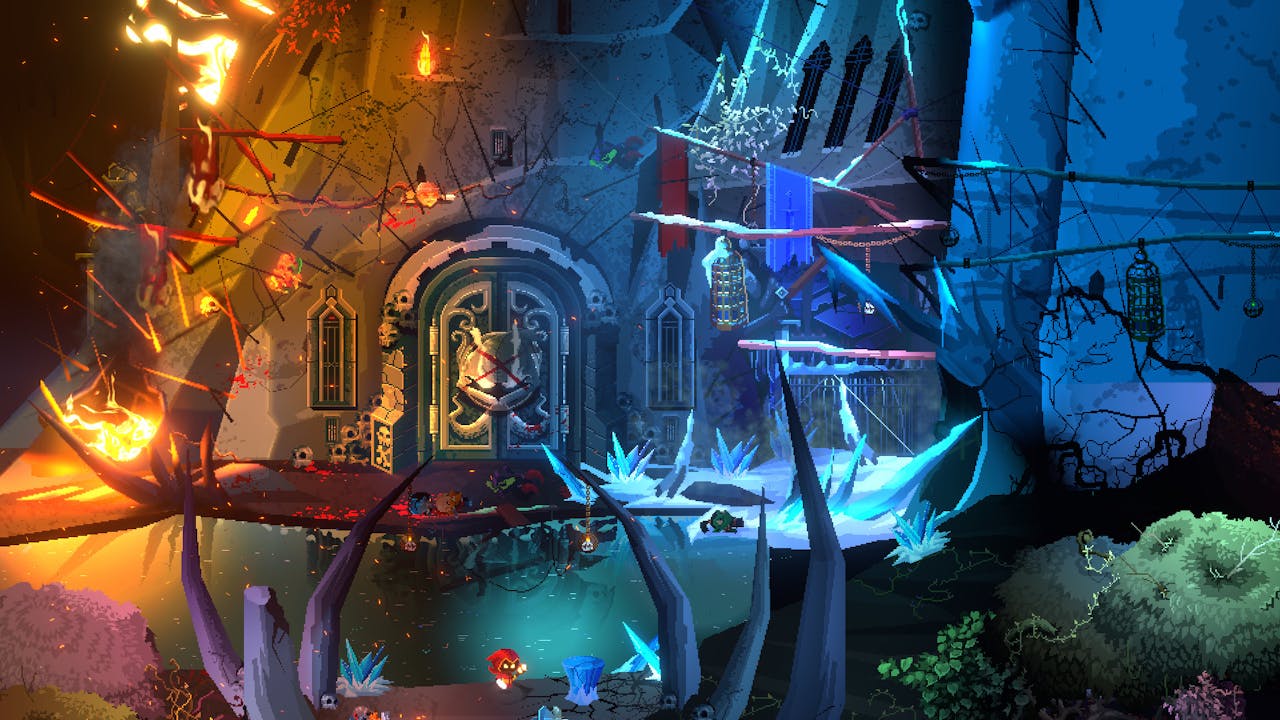 We are already at the end of May, so let's look ahead to see what games to be excited for releasing later this year! So far in 2023 we have seen the release of a ton of great titles, but I assure you there are more to come. Here's a list of 10 games to get excited for that are slated to come out this year.
Evil Wizard — 25th of May
Take on hordes of enemies, solve puzzles, and avoid deadly traps in this humour-filled action RPG full of metroidvania elements in a pixel-art environment. Reclaim your castle from the heroes who barged in and stole it from you. Use the powers of fire, ice, lighting, void, and earth to take advantage of your enemies weaknesses and be the bad guy for once!
Etrian Odyssey, II, & III HD — 1st of June
Okay so this is three games, but all three Etrian Odyssey titles are releasing at the same time so it's almost impossible to only select one. These titles were developed by ATLUS and have all been given a makeover, now they look better than ever with this HD remaster. Create your party using any of the classes that appeared across the three games and jump into this RPG adventure full of exploration and dungeon-crawling.
Explore the beginnings of this RPG franchise with three remastered, timeless adventures! No journey is the same: lead a guild of adventurers and search for treasures within...
Street Fighter 6 — 2nd of June
The latest instalment of Capcom's iconic Street Fighter series is here. Featuring a huge roster of fighters and game modes, this is sure to be a fun time for any player, no matter their skill level. Besides the base game, there are both Deluxe and Ultimate Editions available offering additional characters, outfit colours, drive tickets, Year One passes, and extra stages in the Ultimate Edition.
Street Fighter 6 stars iconic fighter and fan favourites Ryu, Chun-Li, Jamie, Luke, and Kimberely all with new redesigns and cinematic specials. The game lets you play at your skill level and features Real Time Commentary to add to the experience. Pre-order now to take advantage of exclusive outfit colours.
Street Fighter 6 offers a highly evolved combat system with three control types - Classic, Modern and Dynamic - allowing you to quickly play to your skill level.
Elder Scrolls Online: Necrom —5th of June
This new story in the Elder Scrolls universe where you discover Necrom and the hidden secrets of Apocrypha. Your adventure will take you from the Telvanni Peninsula located in Eastern Morrowind to the cosmic realms of the Prince of Fate where you will have to fight to protect reality and discover the new Arcanist class and their runic power making them capable of using restorative, destructive, or defensive magic.
Pre-order to instantly receive the Sadrith Mora Steed when it releases as well as a formal attire costume for Sadrith, a Apocryphal Bookwyrm pet, one Unfeathered crate, three Treasure maps, and two Experience scrolls (+100% for one hour).
The Elder Scrolls Online Deluxe Collection: Necrom is like "8-games-in-one" and best for adventurers who wish to access the Deluxe items, plus all major Chapter zones, biomes...
Park Beyond — 15th of June
Create the amusement park of your dreams as the newly-hired architect in charge of creating mind-twisting rides that couldn't exist in real life. There is a story-driven campaign mode that will teach you how to manage the park while you create increasingly crazy rides.
If you pre-order the game, you will receive the Pac-Man Impossification pack that includes two flat rides, two coaster cars, one shop and its impossification, two building prefabs, and over 15 decorative items all Pac-Man themed.
In Park Beyond, you can create the park of your dreams without being held back by gravity. The user-friendly controls and a story-driven campaign mode will help you learn the...
Ghost Trick: Phantom Detective — 30th of June
It is up to you to solve your own murder in this humorous puzzle-packed mystery classic, now available in HD. The sound of a single bullet rings out in this dark city, but when one life ends the story isn't over, it has just started. Sissel realises that he has lost not only his life, but also his memory and he is now a ghost. He has so many questions about who he is, who killed him, and why. Time is ticking and you only have a few hours until sunrise to figure out what exactly happened before you are gone forever.
In Ghost Trick: Phantom Detective solve your own murder in this quirky, puzzle-packed mystery classic, now in HD!
Exoprimal — 13th of July
From developers Capcom, Exoprimal is an online-only action game that has you working on a team using the new cutting-edge exosuit technology to fight against the overwhelming dinosaur swarms that aim to annihilate you. The Exosuits you utilise are split into different roles, and the players who use them are the only ones capable of standing up against one of history's most ferocious beasts.
Pre-order to unlock the Shark's Mouth exosuit skin for Deadeye, the Stone Golem exosuit for Roadblock, and the Bush Camo exosuit skin for Witchdoctor. These skins are cosmetic only and don't have any other effect.
Exoprimal is an online, team-based action game that pits humanity's cutting-edge exosuit technology against history's most ferocious beasts – dinosaurs.
Atlas Fallen — 10th of August
Journey through a timeless land that is full of mystery, and ancient dangers while you learn to master the sands. Play on your own or with a friend in super-powered, heroic combat where you unleash your power to create deadly shape-shifting weapons. Gather the essence of your enemies and forge a new era for all of humanity creating your own custom playstyle.
Pre-order to get The Ruin Rising Pack that gives you new armour and gauntlet skins, along with unique essence stones and an exclusive coop indicator.
In Atlas Fallen rise from the dust and liberate mankind from the oppression of corrupted gods.
Starfield — 6th of September
Players will get to fully customise their characters in the upcoming RPG Starfield from Bethesda Game Studios. Besides the main character, you also get to create the vessel that you will fly around the galaxy. The planets that you discover will offer resources to collect that will allow you to modify your weapons and gear, making it so you are ready for your next big battle. Explore over 1,000 planets with a variety of terrains that are home to unique and strange wildlife. Starfield is sure to keep you busy for a long time!
Discover Starfield, the new space epic and first new franchise in twenty-five years from the acclaimed developers of The Elder Scrolls and Fallout series.
ENDLESS Dungeon — 18th of October
In this blend of tower defence, rogue-like, and tactical action set in an ENDLESS universe, you will explore an abandoned space station on your own or along with a friend in co-op. Recruit a team of heroes that are shipwrecked while you try to protect your crystal against the constant waves of monsters that never stop coming. If you die, reload, and keep trying. To get out of this station, you will have to get to The Core with your crystal bot which is your key to survival. With a huge selection of turrets and weapons to use, you will find that your choices will determine if you survive or die.
Pre-order ENDLESS Dungeon and get the standard game along with the 'Pioneer Elite' Skin Pack that contains three hero skins, one crystal bot skin, and four weapon skins. Along with G2G badges and avatars.
ENDLESS™ Dungeon is a unique blend of roguelite, tactical action, and tower defense set in the award-winning ENDLESS™ Universe. Plunge into an abandoned space station alone or...
With so many awesome-looking titles releasing this year, the hardest question will be deciding which ones you want to play. Though there is nothing wrong with wanting to play every title on the list!
---
---
Share this post