Grab your gear; you're gonna need it.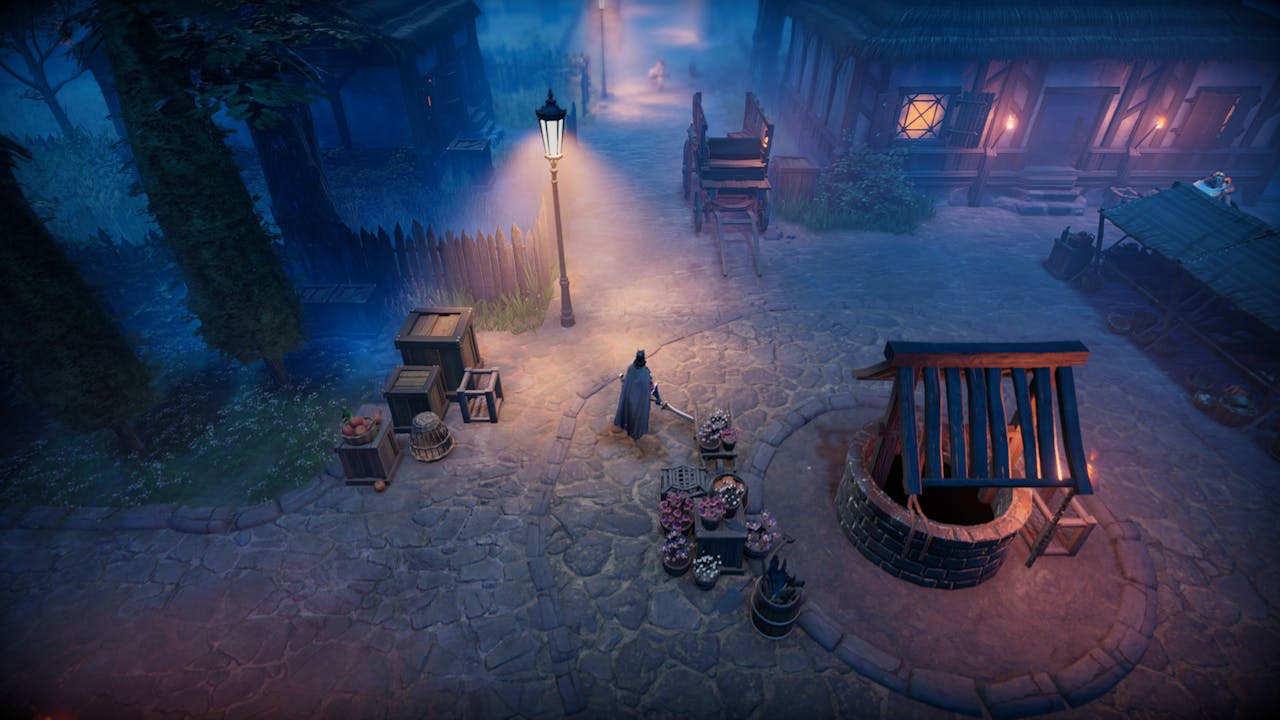 About two years ago, I got the pleasure of playing Resident Evil Village thanks to a friend, and although I thought I was going to hate the survival aspect, it ended up being my favourite part. It feels like since then, I've been on a survival binge, as I've tackled just about every game thrown my way of the genre.
Considering my newfound knowledge and love for it, I figured I'd help newcomers and veterans alike find the next title to hook and challenge them! Here are 10 survival games to check out, with all sorts of genres mixed in and in no particular order.
#1 — V Rising
Genres: Open-world, multiplayer
One of the saddest parts about the survival genre is that there aren't enough of them that I can play with my wife, let alone with a group of friends. So if you're looking for something similar to Valheim but with more darkness and fangs, I couldn't suggest V Rising more! Although the game is still in Steam's Early Access, it'll release very soon, and there's plenty of great content to experience already!
Explore a gothic open world full of all sorts of lurkers — from dangerous animals to other vampires; you'll need to prove your might against them all! Hide from the sun, cooperate or compete against others, learn a ton of awesome vampire powers, and build your very own castle from the ground up!
In V Rising awaken as a weakened vampire after centuries of slumber. Hunt for blood to regain your strength while hiding from the scorching sun to survive. Rebuild your castle...
#2 — Don't Starve Together
Genres: Multiplayer, sandbox
As a new fan of the genre, one of the first games I jumped into was Don't Starve Together: there was something about the Tim Burton style mixed with an almost storybook pop-up look that made it a no-brainer to me.
I'm definitely not the only fan of the title, either. Whether the other 250,000+ people who have played the game started because of the vibe, I can't say. But I'm sure they've stuck around for the same reasons I did — online co-op, multiple characters to choose from, tons of mechanics to master, and a very active modding community!
Whether you stick to the surface world, go spelunking in the caves, dive deeper into the Ancient Archive, or set sail for the Lunar islands, it will be a long time before you...
#3 — Smalland: Survive the Wilds
Genres: Multiplayer, open world
One of the most recent titles to join the genre, Smalland has taken the world by storm, and it's no wonder why — not only do you explore the world from the perspective of a tiny being, you get to ride and tame all sorts of adorable bugs, build up a fortress with friends, and even follow some quests. Although it's also in Steam's Early Access, there's a ton of content to keep you busy for a while. Besides, who doesn't want to tame an adorable cricket and call it Jiminy?
Traverse lake-sized puddles, scale skyscraper-sized trees, scramble through cavernous cracks in roads, as you experience a huge open world from a new perspective.
#4 — No Man's Sky
Genres: Procedurally generated, space
Although No Man's Sky got a lot of flack for the state of the game during release, it's safe to say Hello Games has done a phenomenal job at working hard to make up for it! The game is brimming with content, and the updates are still coming in — the latest one being the 5th of this month — which keep the game fresh even years after release!
It's not hard to see why the title's garnered over 200,000 reviews on Steam, with a procedurally generated world to explore, tons of fawn and fauna to discover, and breathtaking graphics, it's definitely worth for fans of the survival genre to at least consider!
Don your space suit and prepare to embark on a journey through an infinite procedurally generated universe in action-adventure No Man's Sky. Get your Steam PC key now!
#5 — Surviving Mars
Genres: Colony sim, city builder
Surviving Mars is a bit different from what I've mentioned thus far, as aside from being a single-player title, it's also a city builder. That being said, it's easy to see the survival aspect, what with it being all about helping humanity find a new home on Mars.
If you like colony sims and survival titles, I couldn't recommend trying this one out more — the graphics are phenomenal, it's quite a challenge, it has a great premise, and it has support for Steam Workshop!
There will be challenges to overcome. Execute your strategy and improve your colony's chances of survival. Are you ready? Mars is waiting for you.
#6 — State of Decay
Genres: Zombies, open-world
You can't have a list of survival games and not add a zombie title — there are definitely laws against it! In this case, the game in question is State of Decay: a phenomenal open-world title about building a life amidst the zombie apocalypse. Scavenge for supplies, upgrade and fortify your base, and even try your hand at the campaign mode for some added story! Did I mention it has online co-op?
With the world on its knees, it's your job to go out and mess it up just that little bit more. Just in case.
#7 — Frostpunk
Genres: Resources management, city builder
If you liked the idea of Surviving Mars but weren't a fan of the sci-fi space setting, then maybe Frostpunk — a game of the year winner — will be more up your alley.
In this grim title, you'll need to find a way to help humanity thrive in a frozen world where man has developed steam-powered technology to survive the biting and never-ending winter. One of the many things that set Frostpunk aside from other titles is the replayability and variety of challenges — you'll find a ton of weather conditions, maps, and modes to tackle. Help society by making the law, discovering new technologies, and making tough decisions! And if you enjoyed Frostpunk, then consider checking out its sequel — Frostpunk 2.
The city must survive... are you up to the task? Find out with your Frostpunk Game of the Year Edition Steam PC key. Includes city-builder sim and DLC content!
#8 — Subnautica
Genre: Open world, atmospheric
Sometimes, zombies, vampires, and starvation just aren't enough to get your survival instinct to kick in, and if you're looking for that adrenaline rush, then you should consider Subnautica — an underwater survival title with terrifying creatures, tons of suffocation, and bases on the seafloor.
Aside from giving tons of gamers nightmares and thalassophobia, the game managed to put a spin on the genre, and it does a fantastic job at it! Explore the alien yet beautiful underwater world, scavenge for resources, craft all sorts of equipment, and manage your oxygen. And if you're not done by the end, tackle the expansion, Subnautica: Below Zero!
Embark on a wonderful underwater alien adventure in which you've crash landed onto an alien ocean planet with your Subnautica PC Steam key
#9 — Dying Light 2: Stay Human
Genre: Open-world, co-op
Without a doubt, one of my favourite survival co-op experiences has been Dying Light, so it's hard for me not to recommend it and its sequel — which came out just last year — to anyone looking for a great zombie title. Aside from some pretty fun parkour action and bloody zombie slaying, the game has an interesting story, an adrenaline-pumping day and night cycle, and co-op! This is basically a no-brainer if you like survival horrors.
Dying Light 2 Stay Human unravel the dark secrets behind the wielders of power, choose sides and decide your destiny. But wherever your actions take you, there's one thing you...
#10 — Resident Evil Franchise
Genre: Horror
How could I not recommend the franchise that helped me find one of my favourite genres?! It would be blasphemy. Resident Evil has a ton of phenomenal titles to explore — from classics to new hits; if you're interested in trying the survival or horror genre, this is one of the best franchises. Personally, I quite enjoyed Village and the Resident Evil 4 Remake, but you can't go wrong jumping into any... well, except maybe Resident Evil 6, but we don't talk about that.
Featuring modernized gameplay, a reimagined storyline, and vividly detailed graphics, Resident Evil 4 Deluxe Edition marks the rebirth of an industry juggernaut and The Deluxe...
I hope you found at least one new survival game to be excited for! I sure loved every single one of these.
---
---
Share this post