Get up to speed with the latest gaming news with all the top announcements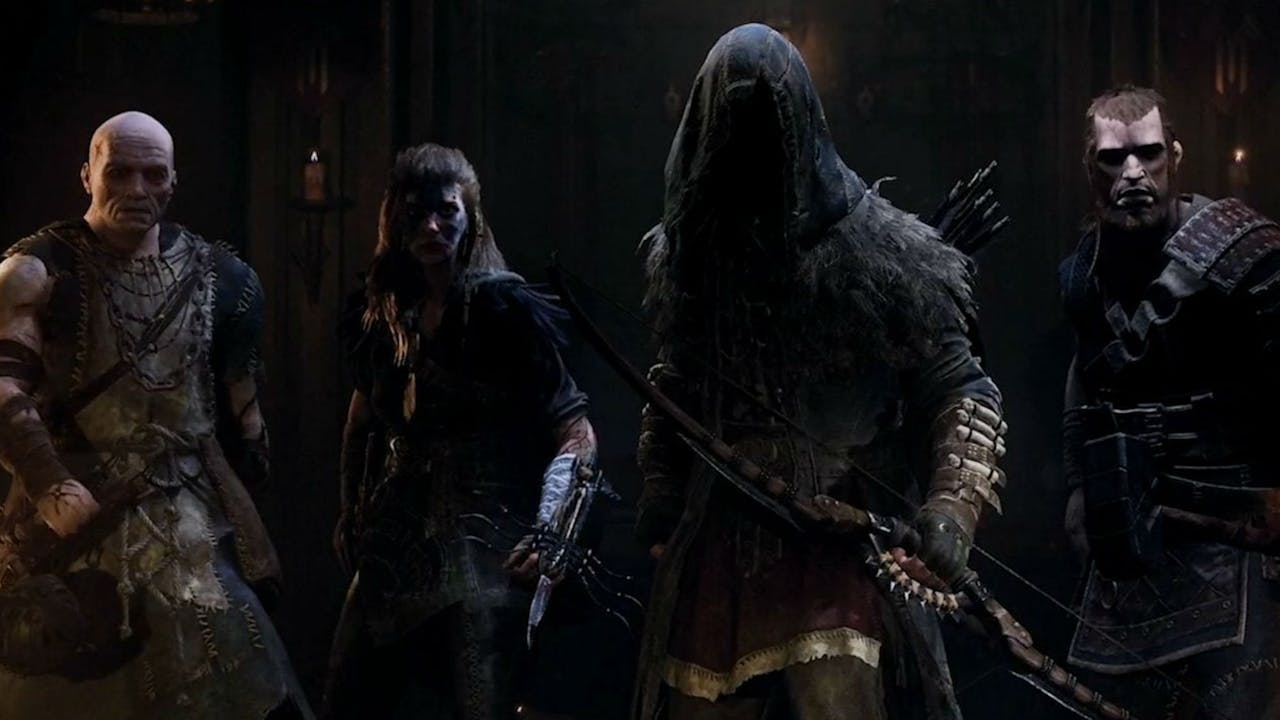 The Game Awards gives us an annual slice of gaming excitement, positioned right before Christmas and the end of the year. It's a great way to celebrate the best of the year's gaming, as well as get excited over what's coming for us in 2021 and beyond.
If you missed the awards or just want to watch a trailer again, we've got them all for you right here. Here's the top announcements from The Game Awards 2020, including the announcements from the pre-show, all in one place.
Loop Hero
Loop Hero takes place in a dark 8-bit world where an evil lich has cast everyone into a timeless loop. You'll play magical cards to place enemies, terrain, and buildings as you explore the world trying to find better loot and shatter the loop forever.
Tchia
An open-world adventure set over a tropical paradise, you'll explore a stunning archipelago with your magical power which lets you take over any creature or object you encounter. As well as blasting out some tunes on your trusty ukulele.
Sea of Solitude: The Director's Cut on Nintendo Switch
Sea of Solitude, the adventure game all about loneliness and solitude, is receiving a director's cut version with a new script, new voices, a photo mode, and much more. You'll be able to dive back into this heartfelt world on March 4th, 2021.
Shady Part of Me
Hannah Murray (Skins and Game of Thrones) narrates this dreamlike adventure. Playing as a little girl accompanied by her shadow, you'll escape a world of nightmares together as you cooperate to find freedom.
NieR Replicant
We've known about it for a while but at The Game Awards 2020 we finally got to see a little of NieR Replicant. This prequel to NieR:Automata has received a complete overhaul, giving us access to a game previously only released in Japan.
Century: Age of Ashes
In Century: Age of Ashes you'll take to the skies on the back of a dragon and engage in aerial multiplayer combat. If you're a sucker for dragons, like we are, that alone will grab your interest. That it's utterly beautiful doesn't hurt either.
Sephiroth comes to Super Smash Bros. Ultimate
Everyone's favourite one-winged angel is heading to Super Smash Bros. Ultimate, and he's bringing his sword. Even Mario's no match for Jenova's son, with a narrow escape for the Italian Plumber in the brand new trailer unveiled at the awards.
Perfect Dark Reboot
Probably the biggest surprise of the evening was the announcement of a Perfect Dark Reboot coming to Xbox Series X. We don't know much about it just yet, but Rare and Perfect Dark fans are sure to be excited by the first fully new game in fifteen years. The trailer showed off a little of the world and the reboot's setting, giving us all a little taste of what to expect.
Back4Blood
The developers of Left4Dead have been busy, creating Back4Blood, a co-op zombie shooter that looks like everything we loved about L4D, all wrapped up in current-gen graphics. If you spent hours and hours fighting through hospitals and airports in the late 2000s, this will be an instant hit of excitement for you.
Hood: Outlaws & Legends
Everyone loves a heist and a bit of (video game) murder, so this multiplayer stealth, murder, combat, heist-em-up looks like it'll be something very special. With a tonne of gameplay shown off in the trailer, this is definitely one of the top announcements at The Game Awards 2020.
Cyberpunk 2077 & Forza Horizon 4
If you've dived into Night City but need a little more of that wonderful car, then hop over to Forza Horizon 4 where the 2058 Quadra Turbo-R V-TECH has just been added. Complete the head-to head race _NIGHTCITY.EXE_ from December 11th to unlock.
The Callisto Protocol
The Callisto Protocol's blood curdling trailer showed off a horror-filled sci-fi world filled with creatures, robots, and things just going awfully wrong for a hapless prisoner. Created by Dead Space creator Glen Schofield, this looks like something to keep an eye on for all horror fans.
Open Roads
Fullbright, developers of Gone Home and Tacoma are back with Open Roads, a road trip through a beautiful autumnal world. Combining stunning scenery and art that seems hand-drawn, Open Roads should be a special treat for anyone who enjoys narrative adventure games.
Disco Elysium - The Final Cut
In March 2021, Disco Elysium is receiving a definitive updated version with voice acting, new quests, and new ways to explore the game's heartbreakingly sad city. In addition, a collector's version will be available, including the soundtrack by British Sea Power and your very own mind totem statue.
New Dragon Age
The long wait is over, we finally have confirmation that there's a new Dragon Age on the horizon. This trailer gave Dragon Age fans a little snippet of what to expect, with a new hero taking the reins. Fan favourites Solas and Varrick return, however, meaning you won't be alone on your next adventure.
Endless Dungeon
Amplitude Studio's Endless series is fascinating for exploring a series of different genres within a connected universe. We've had space strategy games, a tower defence, and even a fantasy strategy game. Endless Dungeon is their next game, an action roguelike set on a mysterious spaceship, and it's looking great.
Crimson Desert
This huge open-world fantasy action game is set for a Winter 2021 release. With a huge variety in climates and an almost Witcher or Conan-esque integration of the abnormal and the mundane, this trailer really whets the appetite for exploration of this fantasy world.
The Swedish Chef joins Overcooked! All You Can Eat
Bork bork bork, hurdy gurdy.
Sorry, we mean The Swedish Chef from the Muppets is coming to Overcooked! All You Can Eat, is there any more fitting mashup? We don't think so.
Unreal Tournament and Warframe
The rocket launcher, shock rifle, and flak cannon have crashed into Warframe for its launch on the Epic Game Store, making this a callback that will be irresistible for many players who stayed up far too late in the early 2000s playing the classic multiplayer FPS.
Season
Season, announced for the PS5, is a game about exploring mysterious disappearing cultures. With a stunning art style and a huge amount to see as you take in the mysteries of the past, Season looks like something very special indeed.
Ark II & Ark The Animated Series
Dinosaurs, crafting, combat, and Vin Diesel? It can only be Ark II. Things look extremely fast and tyrannosaurus in this beautifully rendered cutscene. In addition, an Ark animated series was also announced, showing off some absolutely thrilling combat.
Fall Guys: Winter Knockout - Season 3
We got to see the absolute chaotic action ahead of us in Season 3 of Fall Guys. Titled Winter Knockout, this snowy season is set to bring new skins, levels, obstacles, and much much more. Time to dive back in and win some crowns on December 15th.
Elite Dangerous: Odyssey
First we had spaceships, then we had rovers. Now we're getting to set foot on alien worlds. Elite Dangerous: Odyssey is the second expansion for Elite Dangerous and will allow us to land on planets with atmospheres as well as get out of our ships with our own two feet for the first time, engaging in FPS combat and enjoying some stunning social spaces.
Evil Dead
Announced initially for PS4 and PS5, the Evil Dead game looks absolutely groovy. This co-op survival game looks to bring all the blood, gore, and horror from the original films and slap it right into your eyes in 2021.
Ghosts 'N' Goblins Resurrection
Coming to Switch in February, this revamp of the horrifically hard platformer looks ready to test another generation to their wits end. Can you keep your armour on or will you lose it in stage one? Chances are the latter, but you can always try again!
Microsoft Flight Simulator comes to Xbox
The colossal world of Microsoft Flight Simulator is coming to Xbox Series X and Xbox Series S in the Summer of 2021. How will they fit a whole world into a console? We'll just have to wait and see.
Returnal
If there's one thing Housemarque knows how to do, it's how to make a game feel absolutely brilliant. Returnal is a departure from their previous games and features a more narrative bent, but that doesn't mean it is going to be any less hectic and action-filled.
Super Meat Boy Forever
He's back! Your favourite meaty superhero is back in more levels of chaos, platforming, and deadly deadly traps. Coming the 23rd of December, 2020, you'll be able to get your hands on even more meat.
Sigrid comes to Rogue Company
Armed with a colossal shield, Sigrid is a relentless defender of the innocent and she's the latest character added to 4v4 team-based multiplayer shooter Rogue Company.
It Takes Two
From the developers of A Way Out, It Takes Two looks to be a co-op adventure across a series of wondrous worlds. You'll explore sci-fi planets, tiny jungles, and fantasy worlds as you adventure across the universe with a friend.
The Elder Scrolls Online: Gates of Oblivion
Everyone's favourite Daedric Prince is back, Mehrunes Dagon is coming to The Elder Scrolls Online for the next year-long adventure in Gates of Oblivion. We're going back to the Deadlands, hopefully this time they won't bring the Adoring Fan.
Road 96
This procedural road trip from the creators of Valiant Hearts sees you explore a stunning generated world, taking lifts and hitchhiking as you try to escape a country in turmoil.
Star Wars: Tales from the Galaxy's Edge
Revealed a little earlier but included in The Game Awards 2020, this Oculus Quest adventure sees you dive into a galaxy far, far away like never before.
Oddworld: Soulstorm
A new trailer and release window dropped during The Game Awards 2020 for the next in the venerable Oddworld series. Titled Soulstorm, you'll be fighting against evil once again as Abe in his biggest, and most dangerous adventure. You'll be able to dive into it in Spring 2021.
Monster Hunter: Rise
A demo for the next Monster Hunter game will be available in January for the Nintendo Switch, check out the latest trailer to get a peek at some of the monster hunting action you'll be able to hack and slash your way through.
Evil West
What's better than cowboys? Cowboys with magic, that's what. Set in a Wild West filled with magic and unnatural creatures, Evil West is the next game from Shadow Warrior reboot developers Flying Wild Hog.
Scarlet Nexus
From Bandai Namco, this beautiful action game looks to take over-the-top action to the next level. With two different experiences available that become connected through the game's 'red strings', Scarlet Nexus will be available in Summer 2021.
New Map for Among Us
No-one expected Among Us to take over the world almost two years after its release, but now it's a stalwart of Twitch and during The Game Awards 2020 they announced a new map. The Airship was revealed in a brief trailer, showing off a little of the new layout and new tasks you'll be able to explore.
Fortnite Updates
The Big Green Lad himself, Master Chief is dropping into Fortnite. In addition, The Walking Dead's Daryl and Michonne will be joining too - so watch out for them over the coming days.
Yakuza Remastered Collection
Yakuza 3, 4, 5, and 6 are coming to Xbox Game Pass and PC, meaning at long last PC gamers are going to be able to complete their Yakuza experience with remastered versions of every single game in the series.
Ruined King: A League of Legend Story
The first single-player League of Legends game saw light at The Game Awards 2020, showing off some of the world and the gameplay you'll expect to experience in this action RPG.
Humankind
We finally got to see a lot more of Humankind, taking in its setup as you live out your story over the history of humanity, deciding our fate over the aeons. Humankind will be released in April of 2021.
Medal of Honor: Above and Beyond
Get involved in the action like never before in Medal of Honor: Above and Beyond, a first person shooter out now for Oculus. Taking inspiration from real world World War II stories, it aims to be both bombastic and educational.
Mass Effect
Yep, that's right. We got to see a small trailer for Mass Effect, seemingly tying the game into Mass Effect Andromeda and seeing an aged Liara on the hunt for something to do with Shepard. Mass Effect is coming, and we can't wait.
---
---
Share this post