Top FPS Steam PC war games you need to play
By Sam Jones
- 28th Sep 2020
Games
Lock, load and live the life of a soldier amid the chaos of war with our top pick of games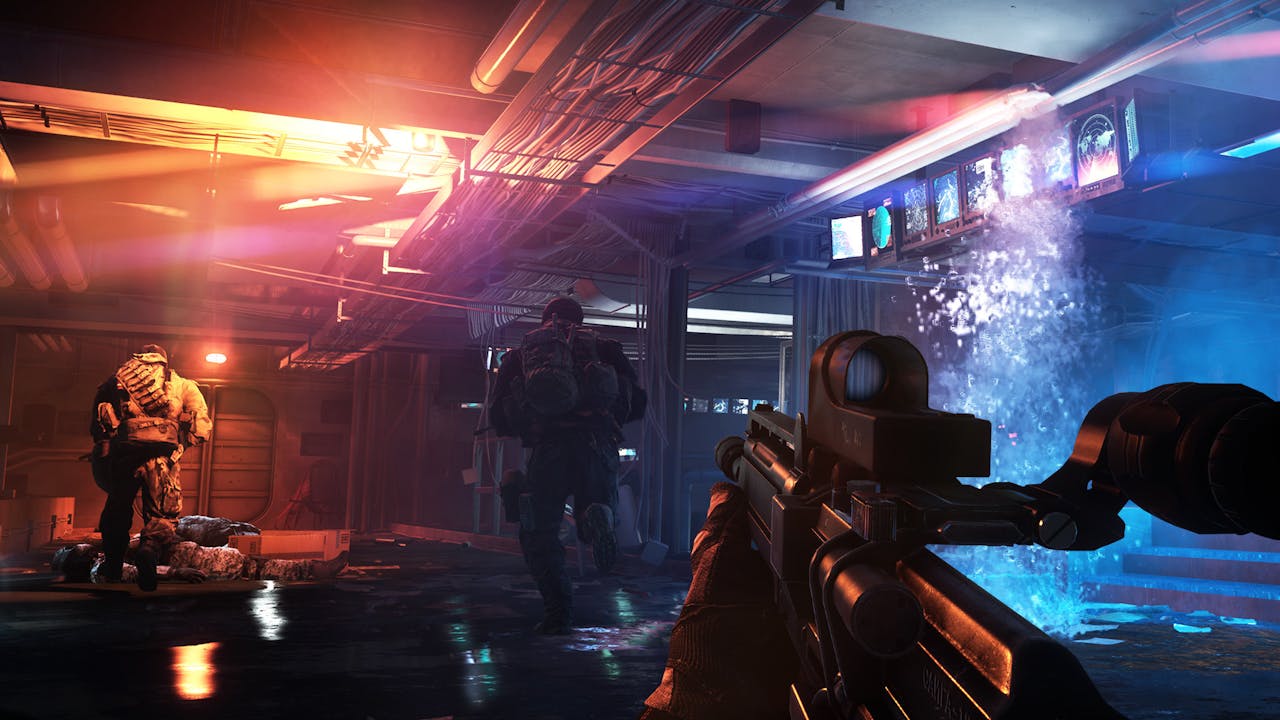 Grab super-hot Steam games at super-low prices, with Fanatical's new Platinum Collection for August.
Head down, soldier, incoming enemy fire!
For decades, gamers have been joining the firefight in a variety of intense first-person shooter PC games depicting dramatic historical World War events, as well as telling an alternate tale of warfare in more modern day settings - and over-the-top fictional battles!
Whatever the battlefield, and wherever the enemy lies, jumping straight into the action with your comrades is a popular pastime for millions of players. If you're a fan of this particular genre and you're looking for some new AAA or Indie games to play, we've selected our top pick of war FPS Steam PC games that you need to play.
So dive into trenches, reload your trusted weapon and get ready to play some fantastic PC titles with our recommended list!
Hell Let Loose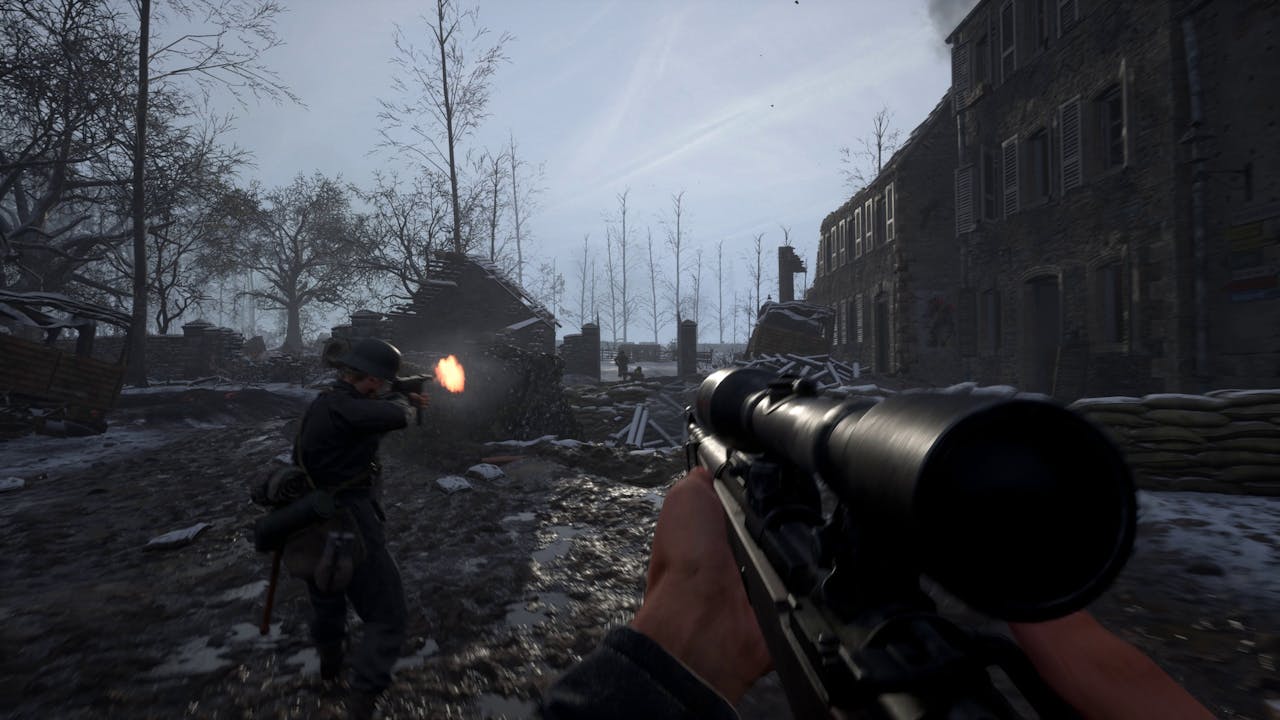 You've never played World War 2 the way it was meant to be played... with lumbering tanks dominating the battlefield, crucial supply chains fuelling the frontlines, being a cog in the machine of colossal combined arms warfare. Hell Let Loose puts you in the chaos of war, complete with deep player-controlled vehicles, a dynamically evolving front line, and crucial unit-focused gameplay that commands the tide of battle.
Featuring sweeping maps modelled on real reconnaissance images and satellite data, the entire battlefield is divided up into large capture sectors - allowing for emergent and constantly unique gameplay that pits two forces of fifty players in a fight to the death across fields, bridges, forests and towns on an ever-evolving front line. When a sector is captured, it will generate one of three resources for your team, creating a complex meta-game that will influence your team's march to victory.
Fight for victory by breaking through the enemy lines on a large, evolving battlefield. The unique sector capture metagame require teams to make continual large scale tactical decisions as to where to attack or defend.
Manage resources and supplies to call in support, re-inforce strong-points or flank enemies. Strategy is key to success.
Call of Duty: World at War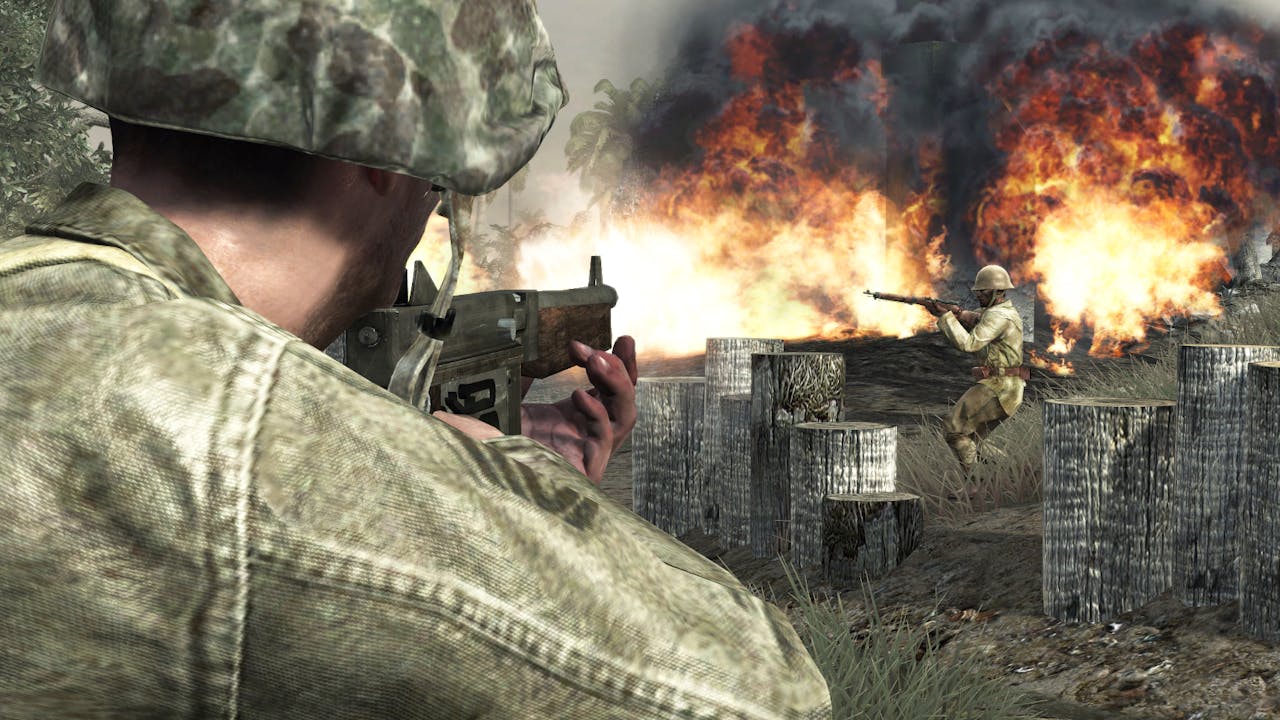 Call of Duty: World at War immerses players into the most gritty and chaotic WWII combat of its time. You'll band together to survive the most harrowing and climactic battles that led to the demise of the Axis powers on the European and Pacific fronts.
The game offers an uncensored experience with unique enemies and combat variety, including Kamikaze fighters, ambush attacks, Banzai charges and cunning cover tactics, as well as explosive on-screen action through the all new four-player, co-operative campaign. The addictive competitive multiplayer has also been enhanced with new infantry and vehicle-based action, a higher level cap, more weapons, and a host of new Perks, maps and challenges.
For the first time in the franchise, Call of Duty: World at War introduces co-op play, bringing fresh meaning to 'No One Fights Alone'. Campaign co-op features up to four-players online, allowing gamers to experience harrowing campaign missions together for greater camaraderie and tactical execution.
Co-op mode incorporates innovative multiplayer components such as challenges, rankings and online stats for deeper re-playability and multiplayer experience bonuses. Co-op mode also features Competitive Co-Op that will show who is really the best player on your team.
Rising Storm 2: VIETNAM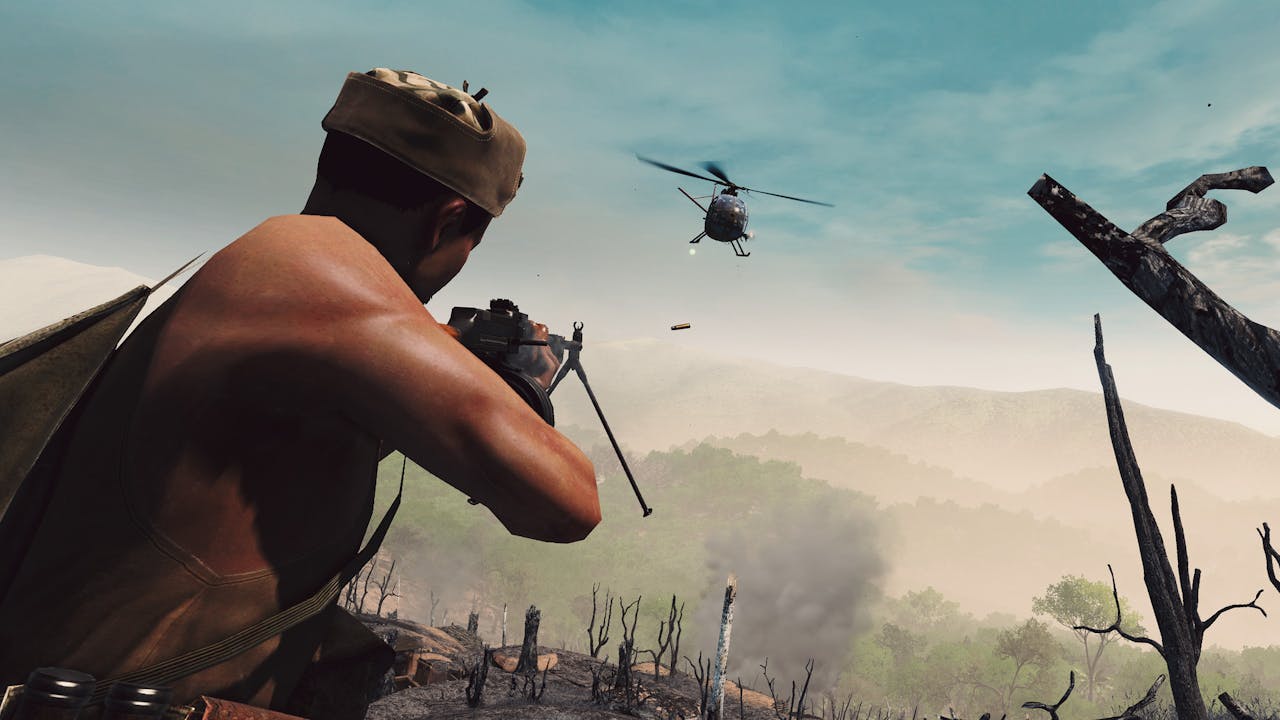 Do you smell that? That's napalm, son. I love the smell of napalm in the morning.
Choose your squad and prepare to run through the jungle in all-out warfare with Rising Storm 2: VIETNAM. In this multiplayer FPS, you'll be able to choose from hundreds of character customization options and fight in huge online battles.
For the first time, the authentic gunplay and visceral first-person action of the Red Orchestra series come to an era of automatic rifles, man-portable grenade launchers and more modern weapons systems. Rising Storm 2: VIETNAM casts players into a brutal, authentic recreation of the Vietnam War.
Customize your characters with additional uniform and equipment variants earned as they play, including new headgear, clothing, tattoos, glasses and more. The enhanced squad system allows you to set up squads as you want them - name them, add their friends, set the squad tag color in-game.
Once in-game, you'll be able to easily identify your squad in the world and on maps - as well as dedicated VOIP channels for the squad, and bonuses for working together.
Head into intense tactical action for up to 64 players in battles as the U.S. Army & Marines Corps, Australian Army and the Vietnamese's NVA and the Viet Cong forces, each with its own unique abilities and tactical advantages such as Napalm Strikes, Artillery Barrages, surface-to-air missiles, traps, ambushes and more.
Weapons also have a wide range of functionality with in-game implications, including adjustable stocks, attachable bayonets, and a new and advanced recoil system which builds on the already phenomenal weapon handling that the Red Orchestra series is famous for.
Players on the US team are able to pilot three different helicopters - the UH-1H 'Huey' transport, the OH-6 'Loach' light recon and the powerful AH-1G 'Cobra' attack helicopter. Play as the Aussie forces to use the Bell UH-1 Iroquois 'Bushranger' chopper.
Ravenfield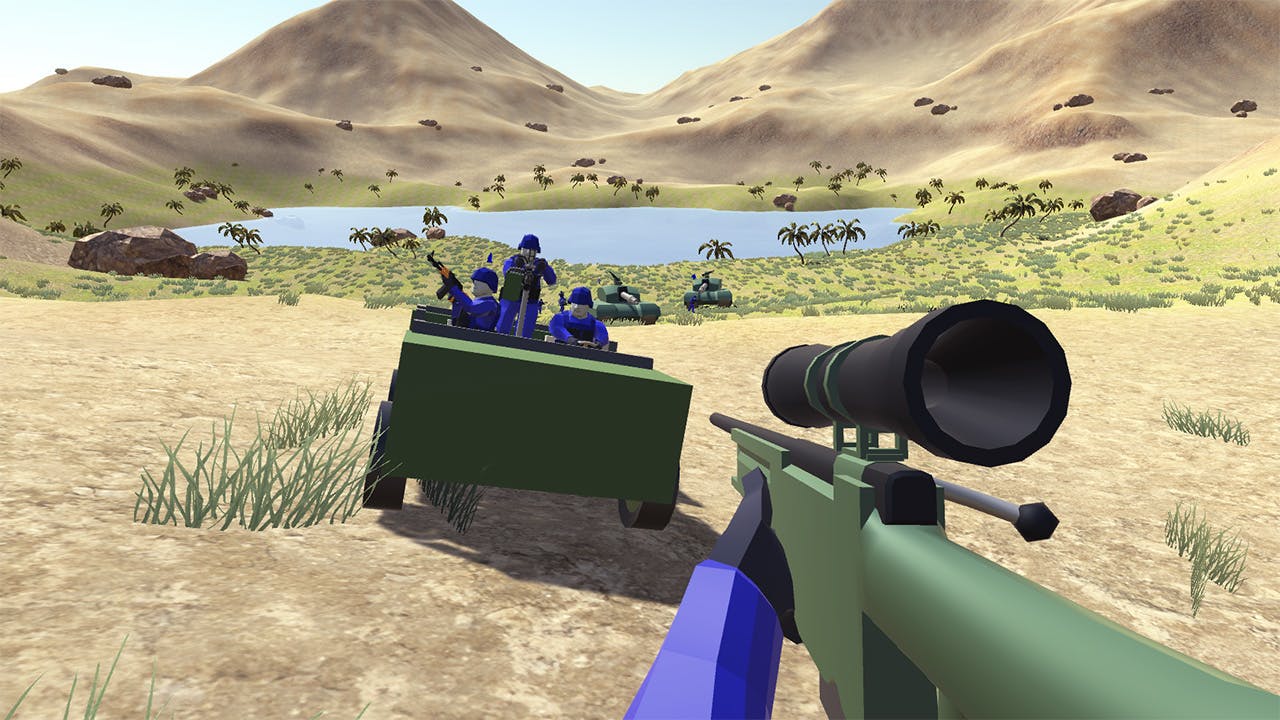 In the 'Overwhelmingly Positive' Steam rated Revenfield, you'll join your Blue allies and take down those pesky Reds using helicopters, tanks, guns, and active ragdoll physics!
Ravenfield is a single-player game in the vein of older team-vs-team AI shooters, designed to be easy to pick up and play, but also rewarding for all skill levels. The number of combatants is only limited by what your computer can handle!
Damaged soldiers drop team-colored blood splats, indicating where battles have taken place.
Verdun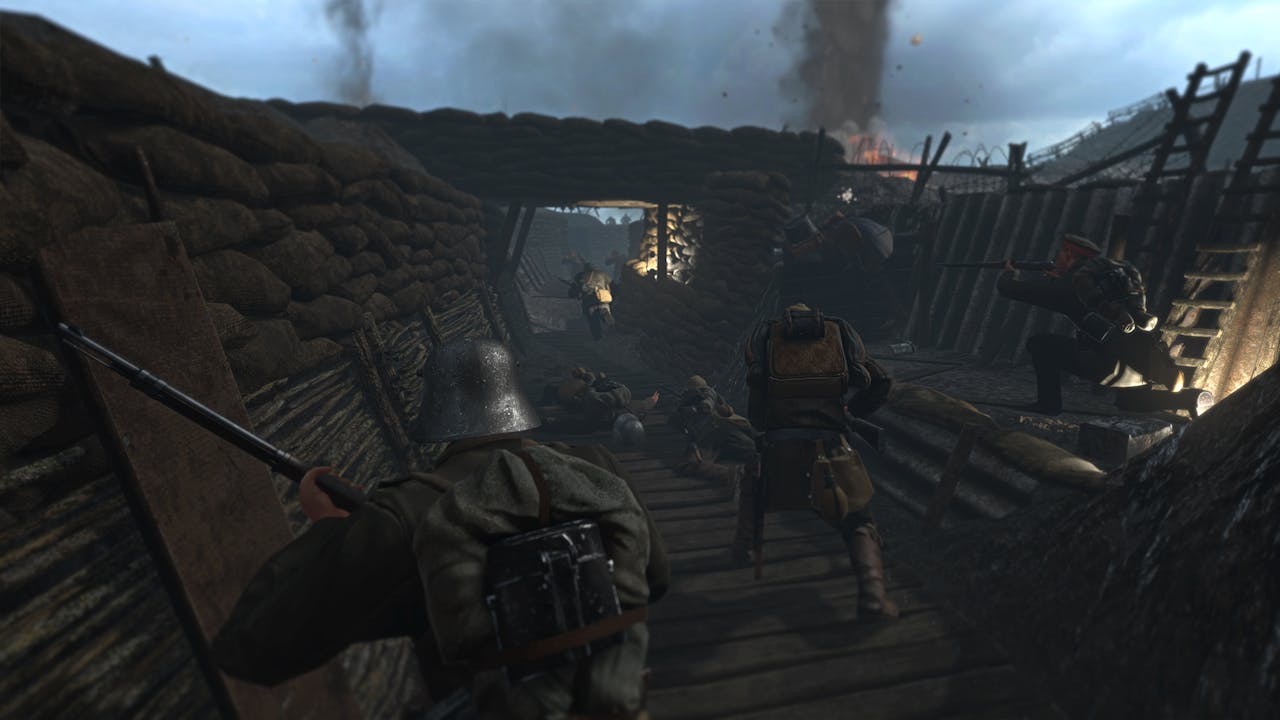 Experience one of the bloodiest conflicts in world history with Verdun, the first multiplayer FPS set in a realistic World War One setting. The vicious close-quarters nature of trench warfare means that skill with a bayonet can be as vital as good aim with a rifle.
The game offers five distinct game-modes with many historically accurate features such as realistic WW1 weaponry, authentic uniforms, horrendous gore, and maps based on the real battlefields of France and Belgium. The dynamic Frontlines game mode features 64 players taking turns to go over the top and attempt to capture the opposing trench line.
Battle your way across no man's land to capture the next enemy trench line, before switching to defense to protect your gains in the Frontlines game mode. Keep your head down or quickly don your mask in the event of artillery strikes or gas attacks.
This unforgiving war isn't for the faint hearted!
Challenging game modes include team-based Frontlines, tactical Attrition, and skill-based Rifle Deathmatch, desperate survival in Squad Defense and epic 64 player Frontlines including bot support.
Insurgency: Sandstorm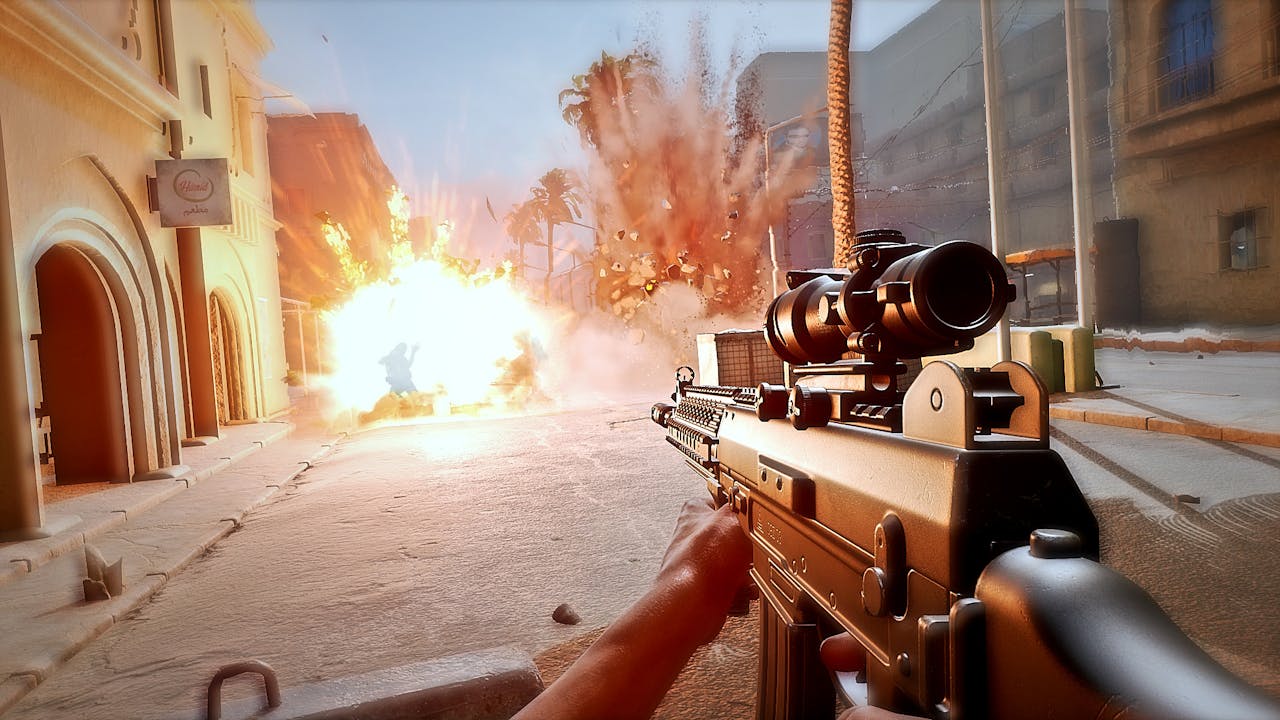 Insurgency: Sandstorm is a team-based, tactical FPS based on lethal close quarters combat and objective-oriented multiplayer gameplay. Sequel to the indie breakout FPS Insurgency, Sandstorm is reborn, improved, expanded, and bigger in every way.
Experience the intensity of modern combat where skill is rewarded, and teamwork wins the fight. Prepare for a hardcore depiction of combat with deadly ballistics, light attack vehicles, destructive artillery, and HDR audio putting the fear back into the genre.
Move with speed and caution as you push through the war-torn environments of a fictional contemporary conflict in the Middle East. Death comes fast, ammunition must be carefully managed, and the environment must be tactically navigated at every step toward victory.
Unprecedented audio design with positional voice-chat for realistic teamwork, and heart pounding ambient audio to bring you into the battlefield. Peek around corners, tactically breach doorways, use smoke to cover your team's advance, and call in air support.
Battle across expansive maps in up to 16-versus-16 player game modes, or eight player co-operative against AI, now with machine gun mounted drivable vehicles.
Call of Duty: Modern Warfare 3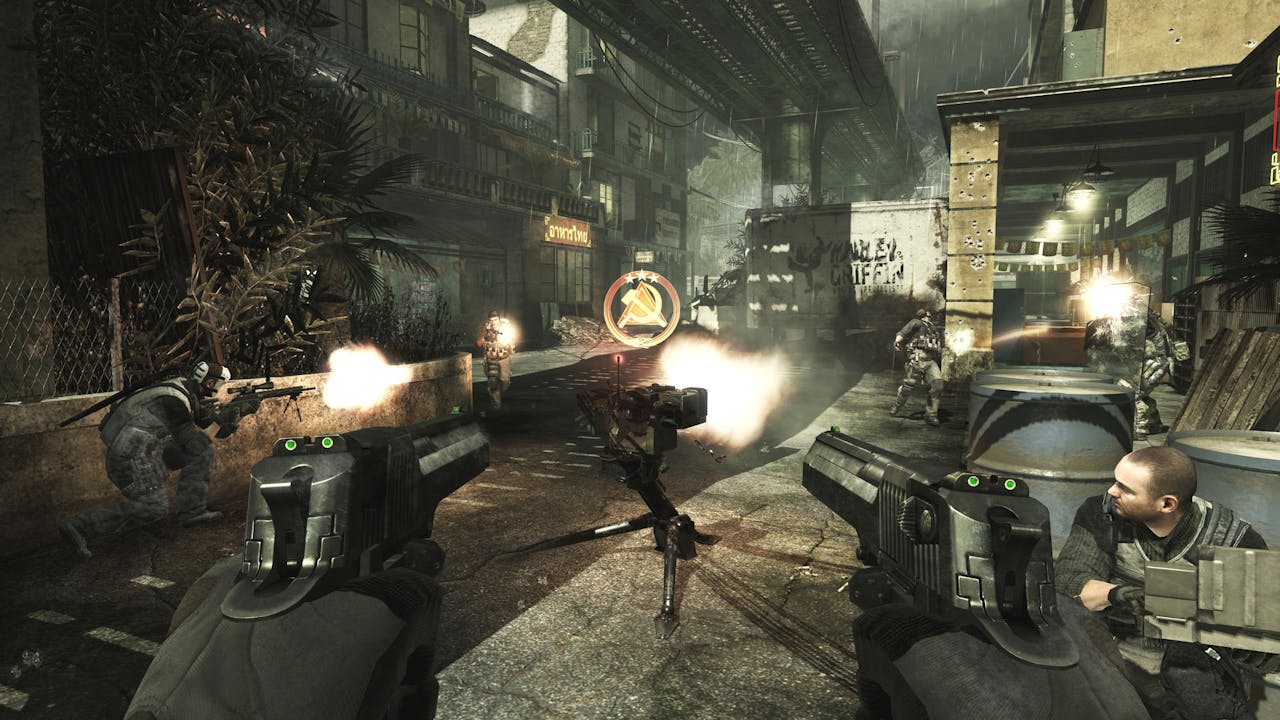 The epic sequel to multiple "Game of the Year" award winner, Call of Duty: Modern Warfare 2, Call of Duty: Modern Warfare 3 sees you join the battle in the world's darkest hour as you hunt down Makarov in a cinematic thrill-ride that only the COD franchise can deliver.
Vladimir Makarov continues to threaten humanity on a global scale, are you up to the fight, soldier?
Join Task Force 141's Captain Price and Soap MacTavish - alongside Delta Force and Special Air Service - as they stay hot on the trail of notorious terrorist Makarov in a large-scale war that hangs in the balance for either side. The definitive Multiplayer experience returns bigger and better than ever, loaded with new maps, modes and features.
Co-op play has evolved with all-new Spec-Ops missions and leaderboards, as well as Survival Mode, an action-packed combat progression unlike any other.
Battlefield 4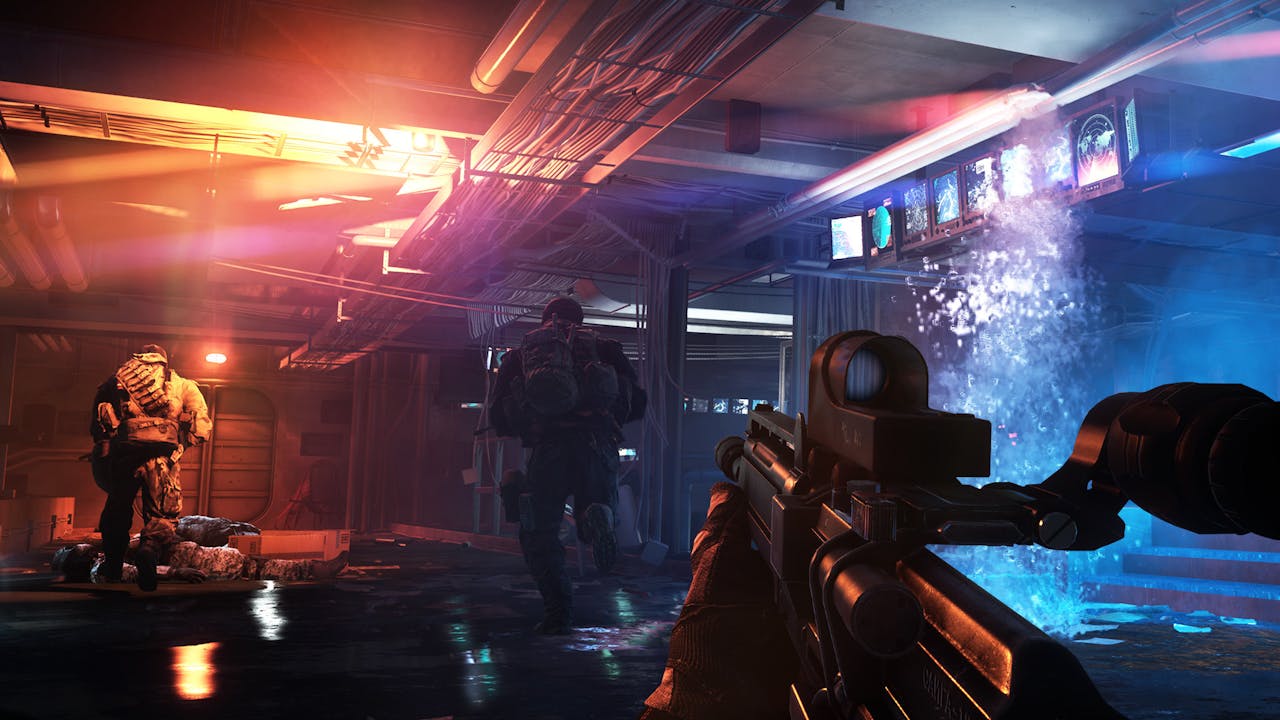 Revel in the glorious chaos of all-out war packed with rewarding, tactical challenges in an interactive environment in Battlefield 4. You'll be able to demolish the buildings shielding your enemy and lead an assault from the back of a gun boat.
You have the freedom to do more and be more, playing to your strengths and carving your own path to victory. There is no comparison. Immerse yourself in the glorious chaos of all-out war.
Experience an unmatched level of war with more vehicles and destruction than ever before. Plus, the huge scope and scale of the maps grants you the freedom to play to your strengths and carve your own path to victory.
Outfit yourself with the latest camos, paints, emblems, and dog tags. With gear for all 4 combat roles, the combinations are endless.
Jump into the fight as quickly as possible with priority position, which means you can start breaking the enemy faster - and get your hands on gun attachments, XP boosts, and customizations only available to Premium members.
Please note that, while Battlefield 4 is available as a Steam PC game, the version on the Fanatical Store is the EA Origin game.
---
Share this post