The Fanatical
Blog
Latest AAA, Indie & Game Bundles
Receive Games Instantly
Save Money
100% Authentic Keys
Total War: WARHAMMER II - Meet the races battling for the Great Vortex
By Sam Jones - 7th Dec 2018Games
What do these races bring to the fantasy table
A strategy game of titanic proportions. The critically-acclaimed sequel to the hit Total War: WARHAMMER, play how you choose with an official Steam key.
Chaos has erupted in Ulthuan as the fate of the Great Vortex hangs in the balance – but which race will ultimately save or destroy it.
Total War: WARHAMMER II, created by Creative Assembly, is the latest title from Games Workshop's Warhammer gaming universe and sees four races - High Elves, Dark Elves, Lizardmen and Skaven – battling it out for supremacy over four continents and, of course, the Great Vortex.
The highly rated sequel launched in September 2017, but for those of you joining the fight now, here's the lowdown on each race.
High Elves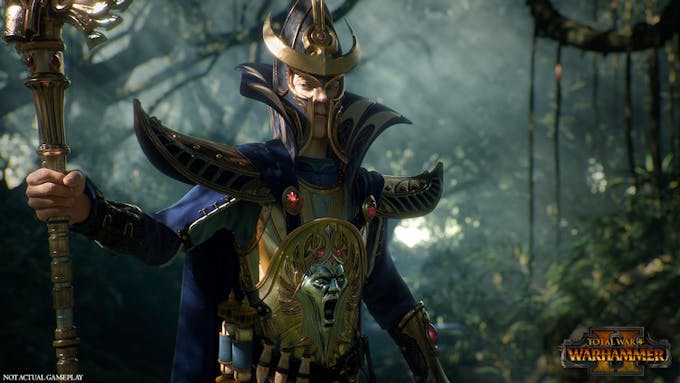 The High Elves are one of the longest serving races in the Warhammer universe, specialising in magic and boasting some of the most powerful mages in the game. Teclis and his twin, Prince Tyrion, are the High Elves' legendary lords and are positioned far from one another at the beginning of the campaign.
Using High Elf spies, players are able to use 'influence' in diplomatic scenarios to alter relations between other factions, making them the masters of manipulation.
Dark Elves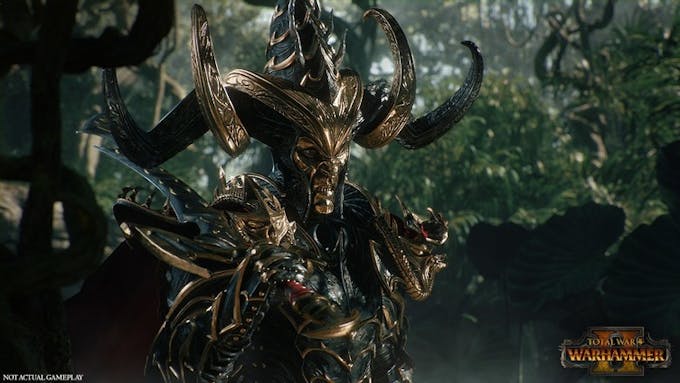 Dark Elves, as their names suggests, are an evil version of the High Elves and are led by Malekith – The Witch King. Their armies have strong naval units and can obtain increased combat power if enough enemy troops are defeated.
Dark Elf Knights ride into battle on ferocious velociraptors, while the dark dragons and War Hydra wreak large-scale havoc on the battlefield. This race also takes slaves from their fallen opponents and use them as currency... charming.
Lizardmen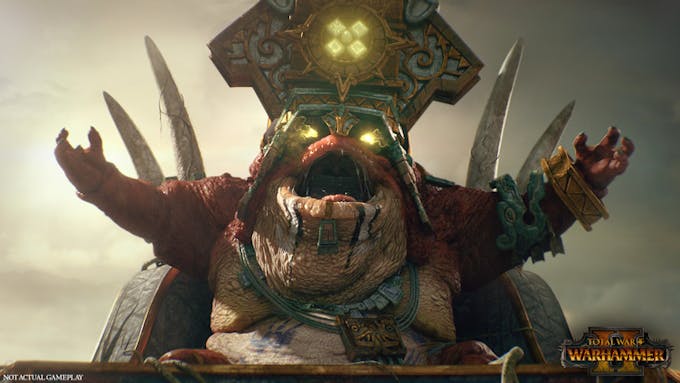 Another historic race in the Warhammer world are the Lizardmen, a reptilian army consisting of dangerous spellcasters and large beasts. These cold-blooded killers are led by Lord Mazdamundi and have large, sluggish Saurus infantry to back up their front line of nimble Skinks.
Their settlements can be linked by a network which helps boost the power of commandments, while periodic missions gives players access to powerful units.
Skaven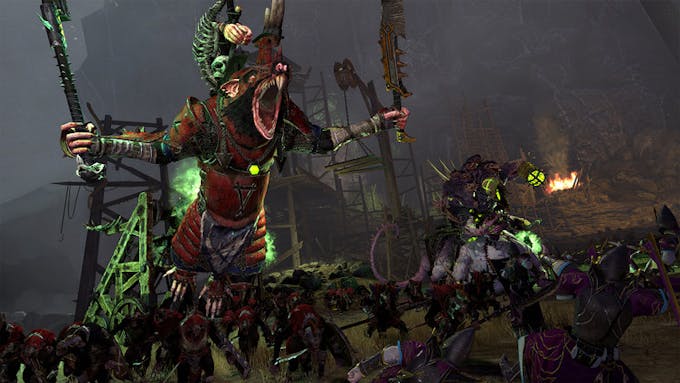 Burrowing underground, the rodent-like race known as Skaven plot their expansion across the world – with the ultimate goal of taking Ulthuan for their own.
Led by 'The Great Horned Rat' Lord Skrolk, Skaven have the element of surprise as one of their key advantages. Their settlements appear as ruins, which means that they must be scouted by enemies to reveal more.
When spurred on by one of their leaders, the Skaven infantries can go into 'frenzy' mode which helps cause more damage to enemy troops. Players must be willing to salvage vast food supplies though as this rat-like army requires a lot of grub to grow its forces, gain bonuses and avoid starvation.
New races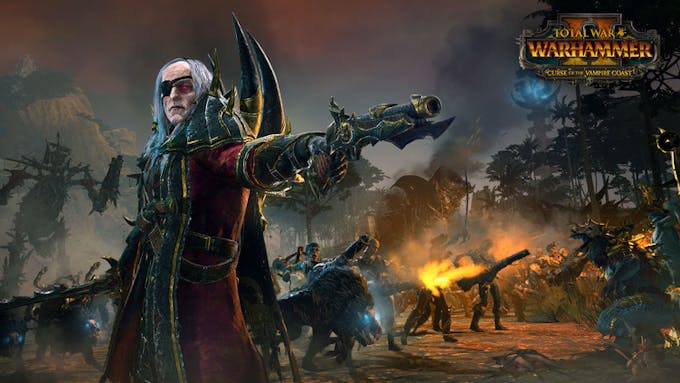 Although their objective isn't to control or destroy the Great Vortex, two new races have joined the realms of Total War: WARHAMMER II. The Tomb Kings, the undead army of Ancient Egypt, seek the nine cursed Books of Nagash - a search culminating in an epic battle at the Black Pyramid of Nagash itself.
Each of these books grants a unique campaign bonus, and puts the player a step further along the road to victory. The Tomb Kings feature four playable Legendary Lords - Settra The Imperishable, High Queen Khalida, Grand Hierophant Khatep and Arkhan the Black - all of which have unique abilities, campaign bonuses, skill trees, quest-chains and campaign start-positions in both the Eye of the Vortex campaign and Mortal Empires.
If you want something with a bit more 'teeth', the Vampire Coast should be your next destination. The great Merwyrm Amanar has been awoken from its slumber by the vacillations of the Great Vortex.
It terrorizes the sea lanes, summoning vast storms and attacking coastal ports on a whim. Only one who wields the Star-Metal Harpoon will tame the beast and become immune to its ravenous hunger.
Find the Harpoon and invigorate the beast using the three verses of a secret, ancient sea-shanty. Like the Tomb Kings expansion, players will be able to choose four Legendary Lords - Luthor Harkon, Count Noctilus, Aranessa Saltspite and Cylostra Direfin.
---
Share this post
Enter a dark fantasy world and become a masterful assassin with your Styx: Master of Shadows Steam PC key. Build up your skills via six unique skill trees in order to sneak, steal and take down...
Enter a dark fantasy world and become a masterful assassin with your Styx: Master of Shadows Steam PC key. Build up your skills via six...
Enter a dark fantasy world and become a masterful assassin with your Styx:...
Ends in
34

:

27

:

12
or until sold out
Subscribe to our Email Newsletter to get Fanatical promotions direct to your inbox.
You can unsubscribe via the newsletter at any time. By subscribing to our newsletter you agree to our Privacy Policy.