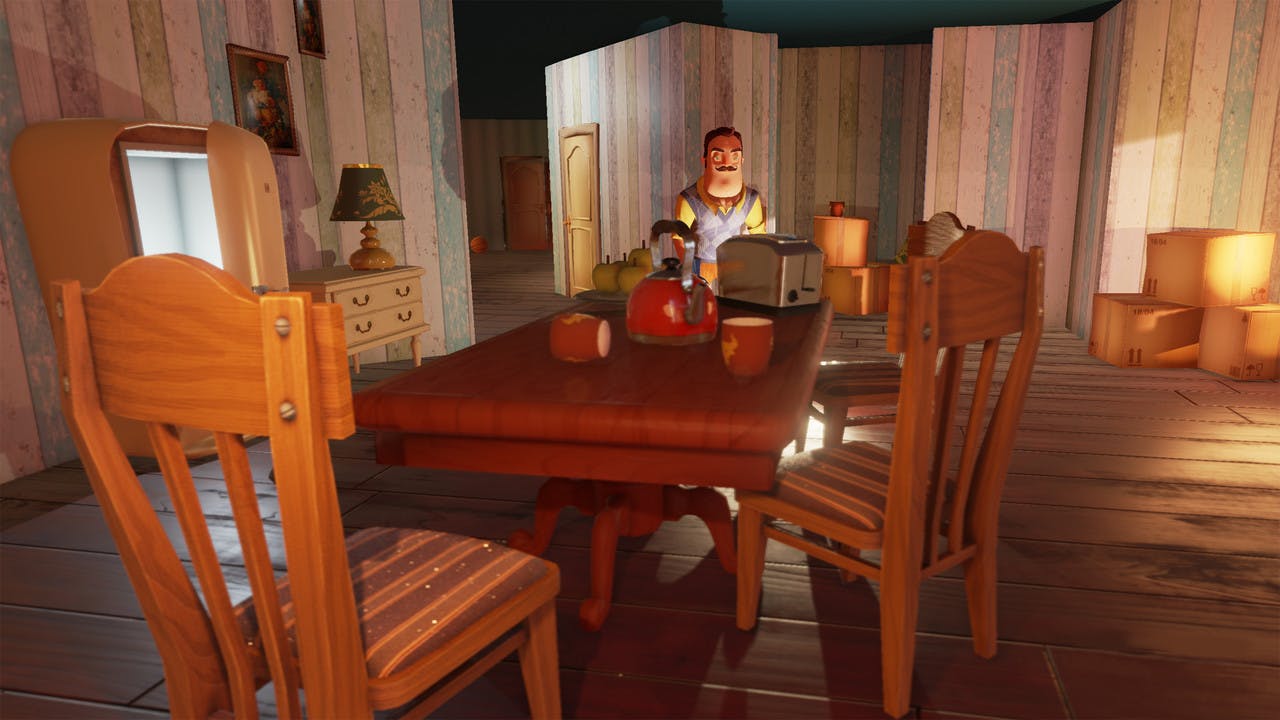 <a href="https://twitter.com/Fanatical?ref_src=twsrc%5Etfw" class="twitter-follow-button" data-show-count="false">Follow @Fanatical</a><script async src="https://platform.twitter.com/widgets.js" charset="utf-8"></script>
The pitter-patter of quick feet across creaking floorboards, the intense thumping music to warn you of an imminent threat – these are but a few of the suspenseful features that players will get used to in the new stealth thriller, Hello Neighbor.
The game puts you in the position of a curious new neighbor who has just moved to a tranquil-looking suburban estate. It becomes clear that there's something strange and menacing about 'the Neighbor' across the street – so, as all law-abiding citizens would do in this scenario, you're tasked with breaking into the Neighbor's home to uncover his dark secrets.
Hello Neighbor, developed by Dynamic Pixels, had just reached 10% of its Kickstarter target when tinyBuild signed as its publisher. So, what was it about the game that attracted tinyBuild to get involved?
In an exclusive chat with fanatical.com, tinyBuild PR Director Yulia Vakhrusheva revealed the emotional connection between publisher and game.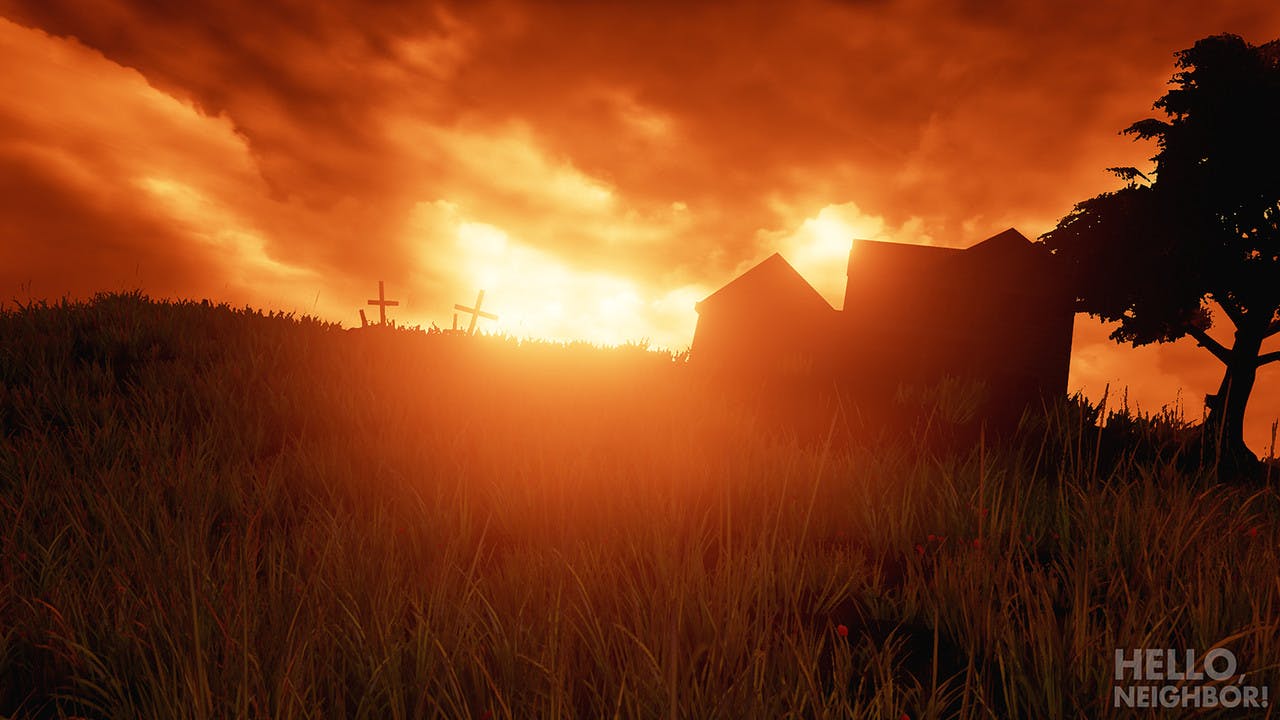 "We immediately fell in love with Hello Neighbor's visuals and thrilling gameplay – and we knew that this was a project we wanted to be a part of right away!" says Yulia. "We found Hello Neighbor about six months before their Kickstarter. At the time, tinyBuild wasn't large enough to support such a game - but over the last year things have been going well, and we were able to support the game as a publisher."
The game has a somewhat charming and light-hearted look about it, but gameplay footage shows more classic survival-horror elements as you search the Neighbor's eerie house for tools and other items that can help unlock doors to help you progress. We asked Yulia what the decision was behind combining these two genres – rather than opting for an all-out dark horror game.
"Hello Neighbor was never designed to be a horror game," she said. "It was designed to be a stealth action puzzle with sandbox elements. However, the creepy Neighbor, mannequins and scary music has turned the gameplay into a suspenseful thriller.
"The collision of these two styles worked surprisingly well together!"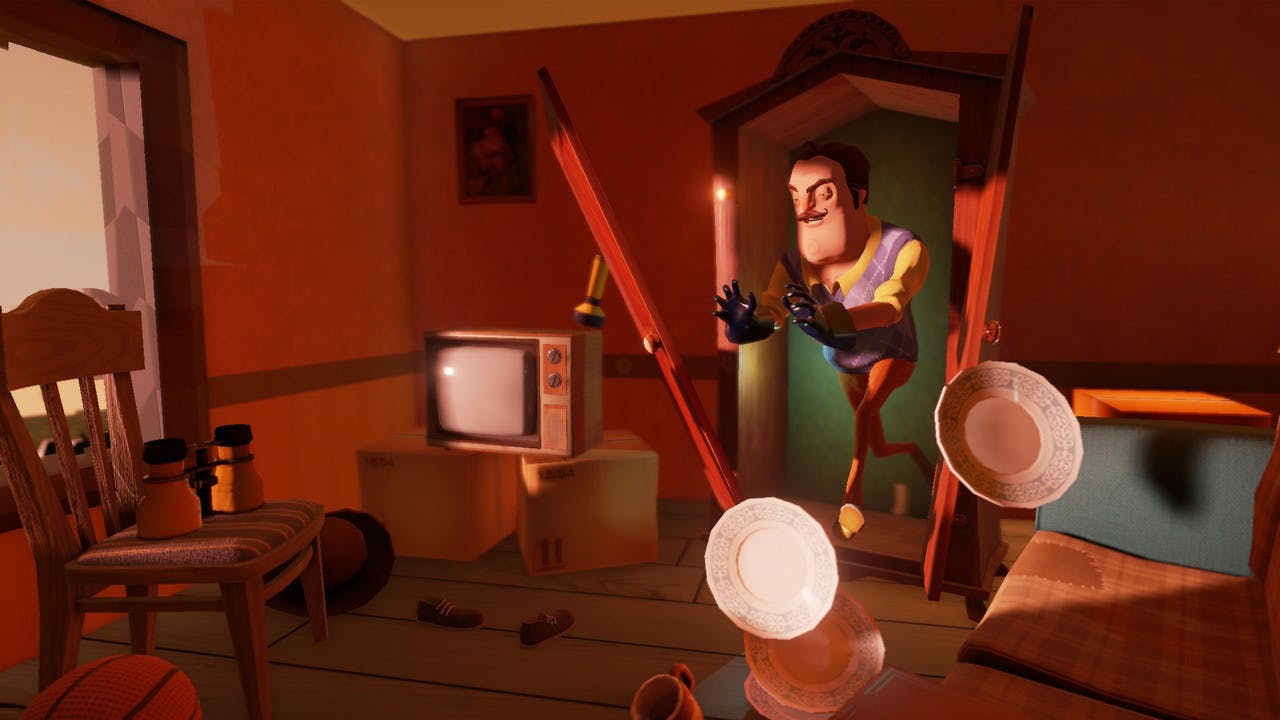 The game has been through six official stages since 2015, including pre-alpha, alpha stages one to four and the beta – so it's fair to say that the game has come a long way since its initial announcement.
"The game changed a lot since the early alphas," says Yulia. "The Neighbor's AI became more advanced in terms of learning and challenging the player, the art style changed from realistic to more Pixar-like, and of course, the story is now completely shaped – we can't wait to share it with our fans.
"Our players are the driving force behind the Hello Neighbor development. The game is designed for people to play, share, discuss – it is a community-driven game. We implemented several things in the game thanks to our community feedback, including game mods and the story around the Golden Apple."
The Neighbor can be a daunting character to face, fortunately tinyBuild were happy to give us their top tip on how to survive in Hello Neighbor.
"Be patient. Observe the Neighbor's behavior and proceed with caution."
---
---
Share this post