Spend $10 and you'll get one of these as an extra festive treat!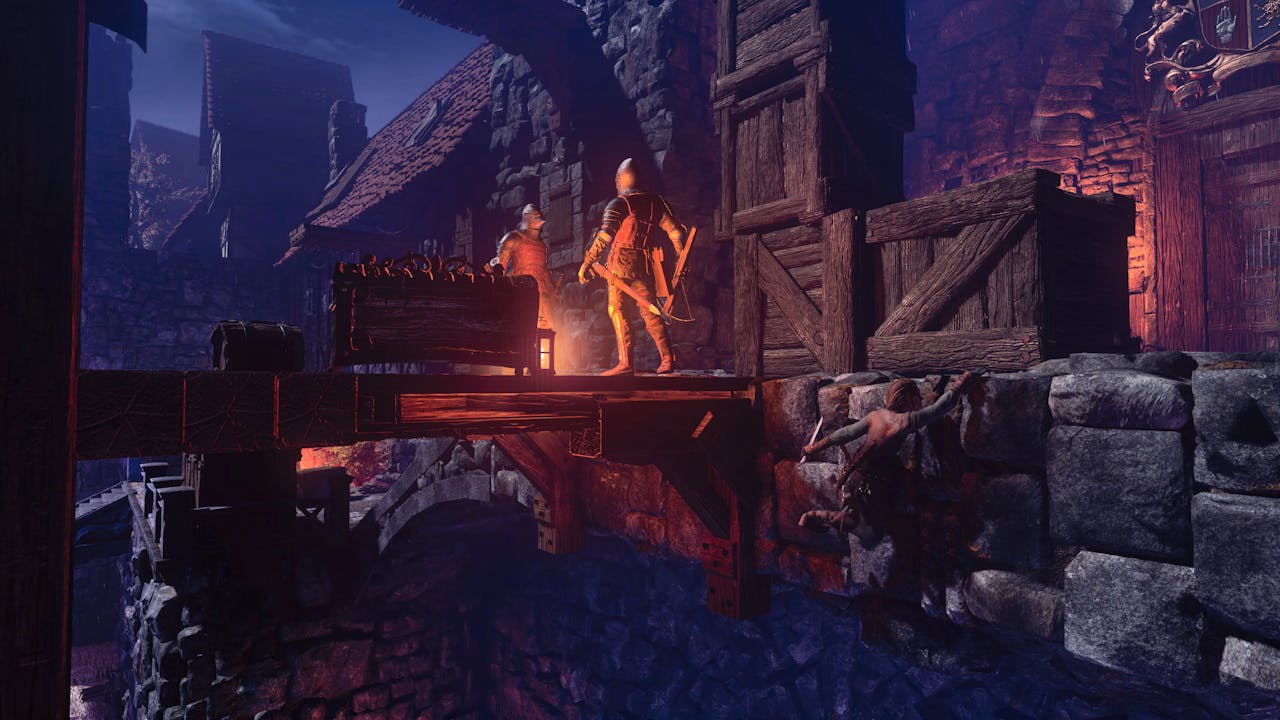 So, you've dived straight into the Winter Sale and bought some top notch AAA and Indies, or exclusive bundles, but the fun doesn't stop there!
We're putting on our big red suit and straightening out our beard to add a bit of Christmas spirit to your shopping cart with a FREE additional game or gift, when you spend $10+.
Here, we've put together a list of the free games and gifts you'll receive if you spend $10 or more in a single purchase - check them out!
Niffelheim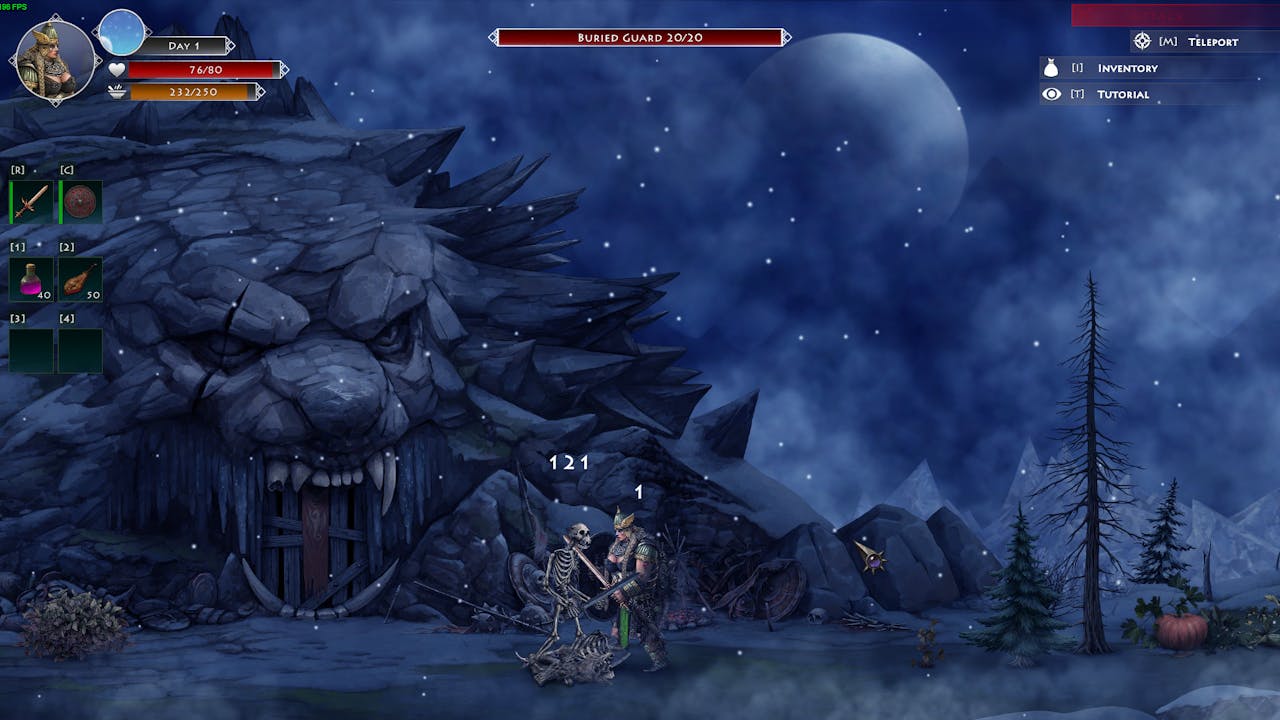 Warriors remain warriors even after death. Set out on the path to the last challenge and prove yourself to the Gods in action sim RPG Niffelheim. In life you were never frightened by the cold, darkness and death, and you won't fear now - just make sure you have enough provision, defend yourself and unravel the mysteries of these lands.
Crush anyone who dares to attack your lands. Each fallen enemy brings you closer to Asgard!
Bones, teeth, fur - use all that you scavenge to craft weapons and armor. Build a fortress that will protect you from enemies and help you to destroy the attackers.
The Death Priests will issue ultimatums. Will you bend to their will, or reject their orders and accept the battle against their dead minions?
Brew potions from mushrooms and slain beasts to become stronger, cook the best dishes to feed all your friends, and prepare poison that will kill the most powerful troll.
Reach the very heart of the world to find powerful artefacts that will help you win the final battle. Discover what lies hidden in the darkness.
Days of War: Definitive Edition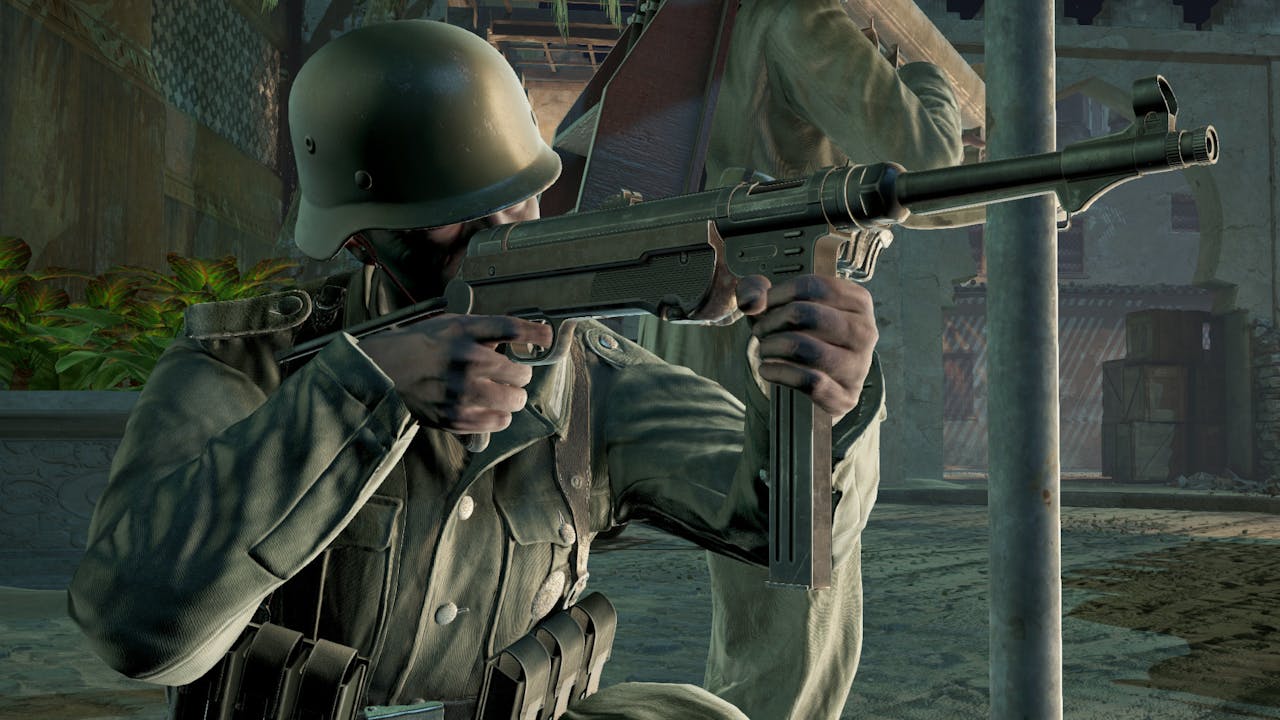 Experience the heart-pounding, bullet-flying action of World War II like never before with Days of War: Definitive Edition.
In this action Indie, you'll jump into a competitive, team-based first-person shooter, where you witness non-stop combat across several theaters of WWII. Play online in 32-player multiplayer or hone your skills offline against bots and in the gun range.
Select from six classes with customizable loadouts to find your favorite guns from an arsenal of 60 different weapons.
Customize and share your experience by creating custom maps with integrated Steam Workshop support. Enjoy fast-paced combat that throws players into the fray over and over again, as well as competitive viability for many types of play styles from bolt action rifles to high capacity machine guns.
Days of War features a Map Editor and Steam Workshop support that allows you to create custom maps to share with friends.
Distrust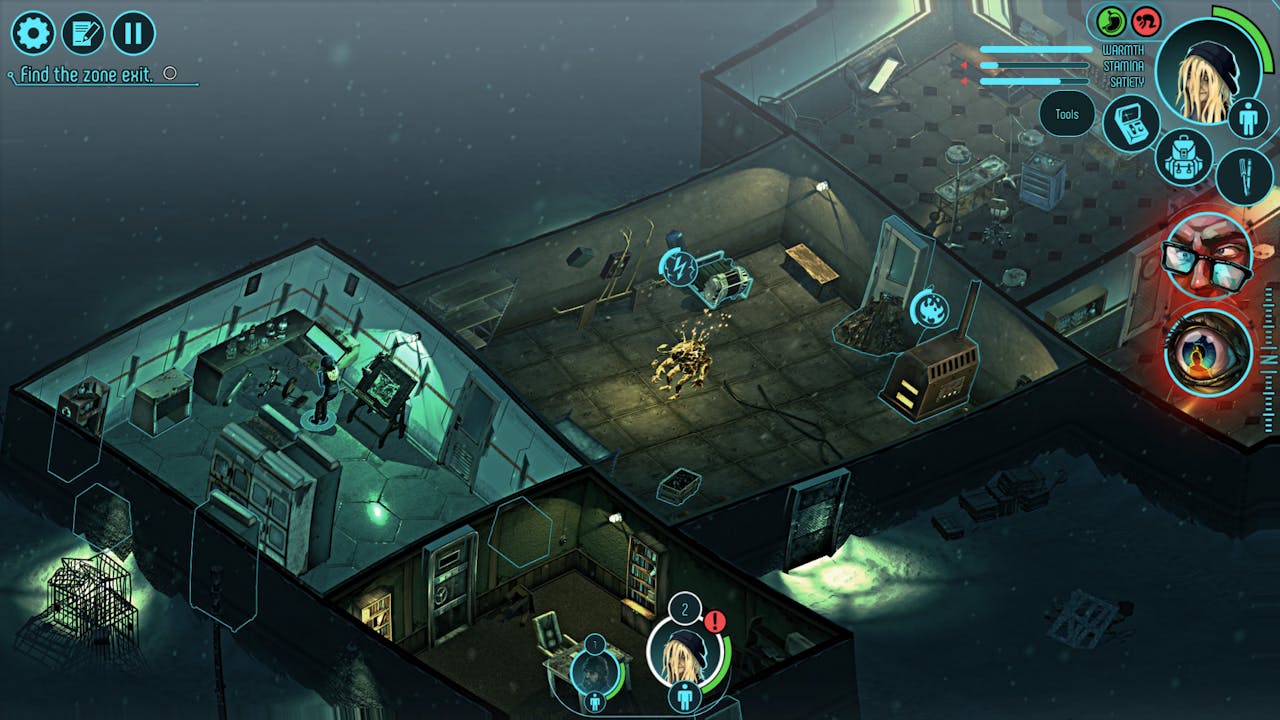 Inspired by John Carpenter's The Thing, Distrust is a adventure strategy where a helicopter crash has left a group of explorers stranded near an Arctic base. As they try to find a way back, all they are doing is sinking deeper into a nightmare scenario.
When they sleep, they attract a terrifying force that sucks the life out of their bodies, but the longer they battle exhaustion and stay awake, the less likely they are to survive...
As the survivors try to sleep just enough to stave off fatigue without dying, they slowly go mad and eventually reach the point where they can no longer trust their senses. In time, they can't even tell the difference between reality and a hallucination.
Guide the survivors through a randomly generated Arctic base, overcome the severe climate and fight the unfathomable!
Battle the extreme climates and enter randomly generated levels with tons of quests, game events and plot twists - and choose from 15 characters with unique skills and abilities.
Cook, Serve, Delicious! 2!!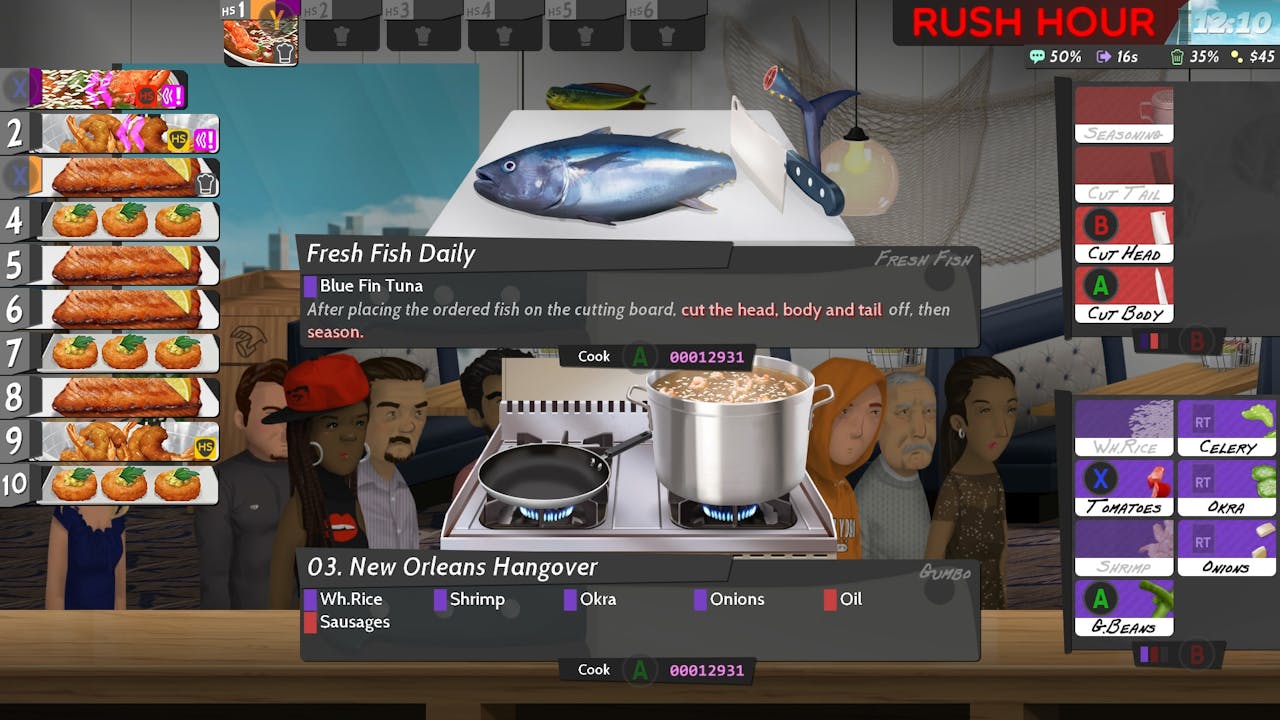 Strategy sim Cook, Serve, Delicious! 2!! is the massive sequel to the surprise best selling original, one of the few games that gives players complete control on how they want to build their restaurant.
The game starts like any other morning at SherriSoda Tower as you take the elevator up to open Cook, Serve, Delicious!, a platinum star restaurant that was surging in popularity thanks to your amazing chef and management skills. Just then, a swarm of police surround SherriSoda Tower.
It seems the SherriSoda head executives were secretly stealing funds from the company at the same time they were incurring a staggering amount of debt, draining the accounts of the tower and several of the businesses inside of it, including CSD. Just like that, the tower was closed and put up for federal auction, including everything inside of it. It was all over… the Cook, Serve, Delicious! restaurant was no more.
Angry but determined to rebuild, you've scrounged up all of your personal life's savings and bought commercial space inside the Teragon Supertower, the largest skyscraper in the city. It's here that you will start a brand new Cook, Serve, Delicious! restaurant, build it back to its former glory, and rebuild your legacy as the best chef in the world.
Experience all-new gameplay features and additions, with a greater flexibility of difficulty for those who like it casual or insanely difficult. There are over 180 foods, sides, drinks and desserts to choose from, a staggering increase from the 30 foods in the original game!
Shadwen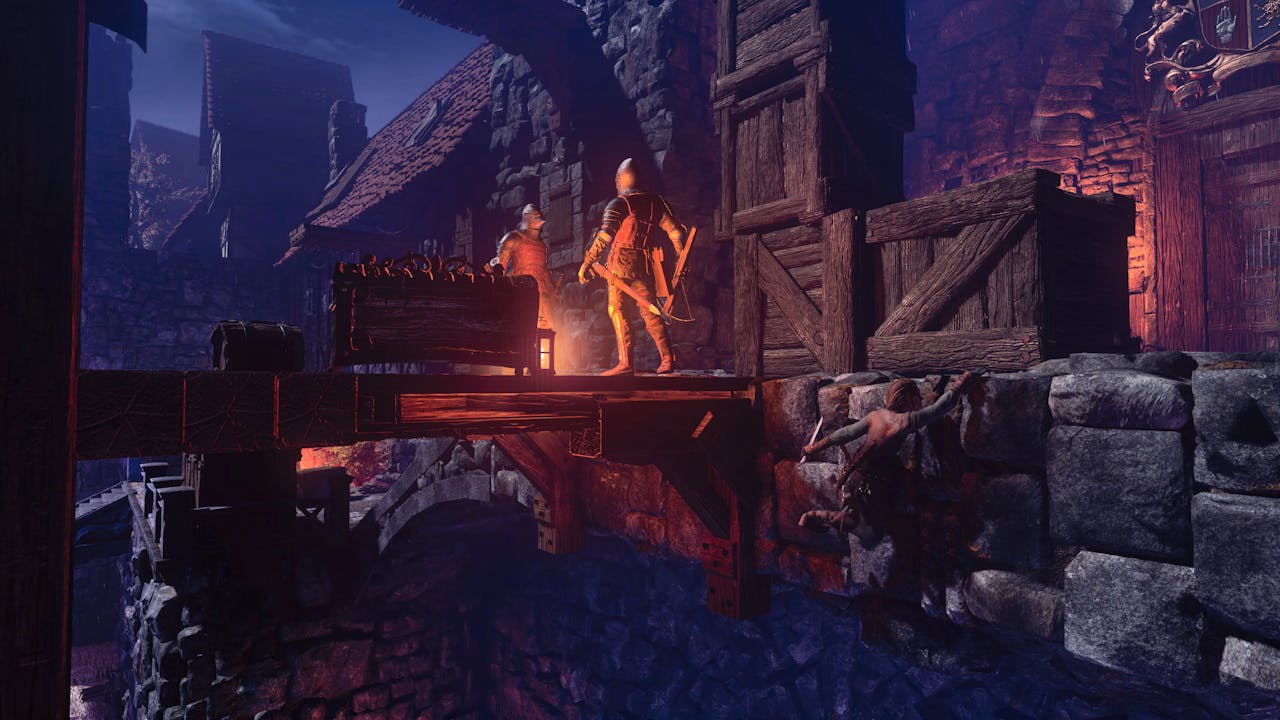 Shadwen is a 3rd person stealth-action game where the only rule is to remain unseen. Stay hidden - or the ruthless guards will kill you on sight. Shadwen, an assassin on a quest to kill the king, has a chance encounter with an orphaned girl, Lily.
She follows Shadwen on her dangerous journey, but when the ruthless guards get too close, Shadwen must take action right in front of Lily's eyes. Will the assassin risk the girl's budding trust by resorting to violence, or try and find another way while keeping her real purpose concealed?
To kill or not to kill - that is the question!
Sneak and explore around the dark and gritty medieval province and use the environment to your advantage - use your rope to grapple onto rooftops, silently drop from ceilings, or veil yourself in the shadows.
Pick your assassinations carefully - avoid being seen, heard or getting caught indirectly. Suspicious sights and noises will alert the guards, so use it to your benefit.
Time stands still when you are not moving Shadwen, allowing you to stop at any point mid-motion. Rewind time to manipulate your past and present actions!
Set up traps and hazards to lure guards towards their untimely demise; discover new ways to eliminate or distract your foes by crafting items into deadly surprises, including poison traps, spike devices, decoy toys and more.
Toybox Turbos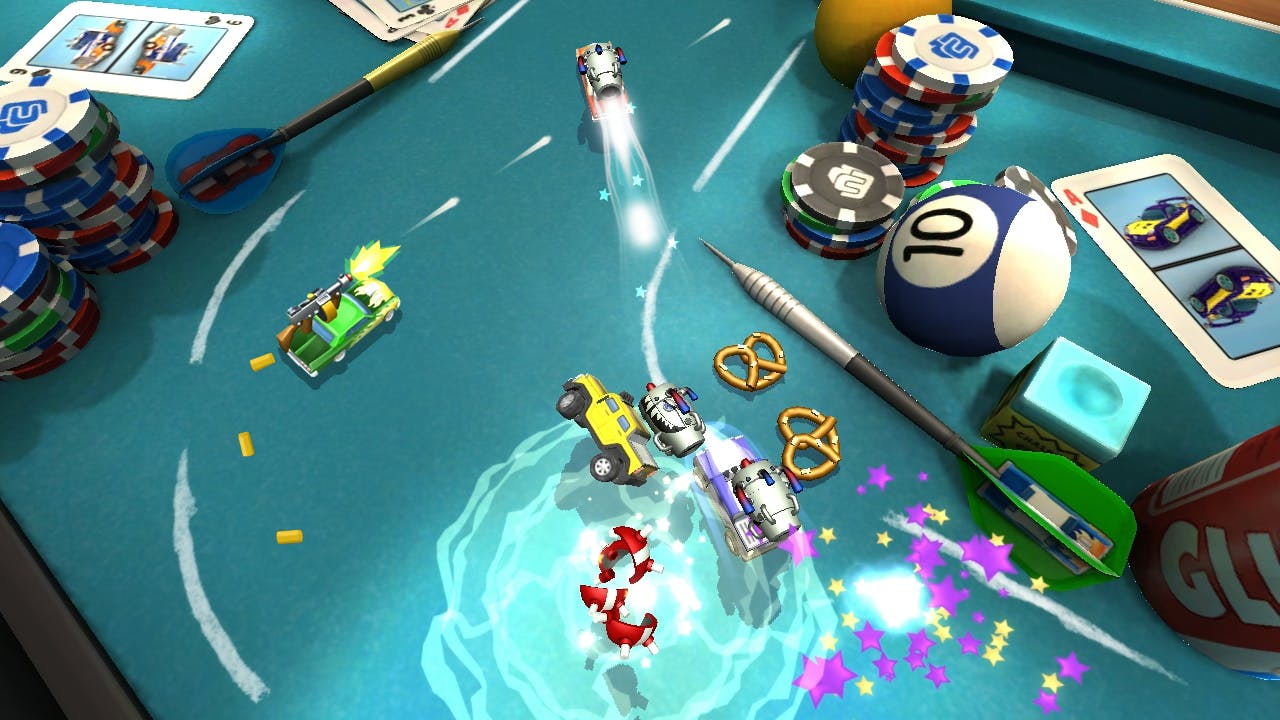 Fire up the fun as Codemasters reboots the classic table top racing experience in Toybox Turbos - now updated to support the Oculus Rift Development Kit 2 (DK2) virtual reality headset for incredible immersion!
Collect and customize 35 vehicles in this pick-up-and-play arcade racer. Take on 18 obstacle and short-cut filled circuits built for chaotic, combative competition - speed past spilt sticky jam on the kitchen table, dodge flaming Bunsen burners as you take your opponents back to school and dodge the runaway train as you race around a railway set.
Stay on track by using a range of awesome and ridiculous power-ups to send your rivals into a spin, including mines, machine guns and, of course, giant car-mounted hammers. Master six game modes in the single-player game, then turn friends into foes in manic four player multiplayer - local, online or with a mix - perfect for those one-more-go gaming session that race into the night!
This top-down racing game is bursting with miniaturized mayhem, featuring dinosaurs, combine harvesters, golf-buggies and so MUCH more!
Out of the Box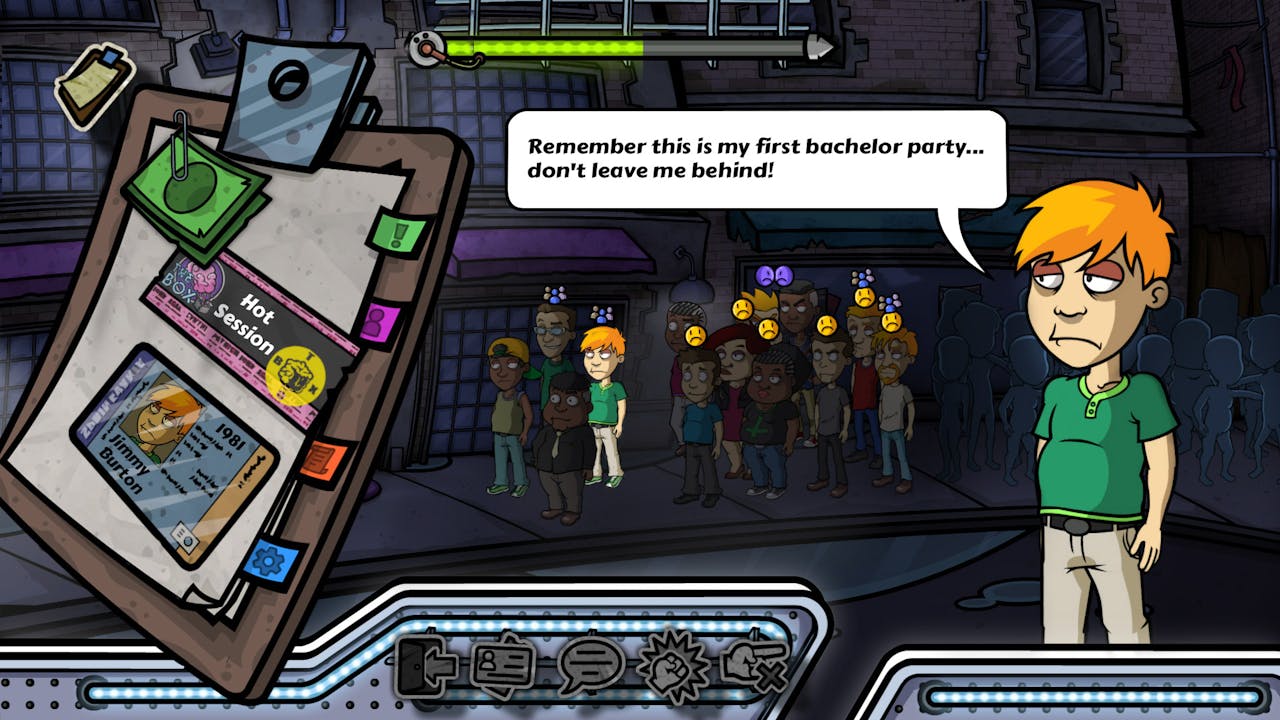 In bouncer strategy simulator Out of the Box, you are Warren Baker - the new gatekeeper of the prestigious club The Box. After spending three years in jail, you just want to live an honest life and recover your daughter.
However, the quirky clients of The Box will drive you closer to your turbulent past, involving you in a gangster scheme that threatens to destroy everything that you love.
Every night, among the club's visitors, you'll find undercover cops, annoying celebrities, runaway criminals or ghosts from your past. As the new bouncer of The Box, you decide who enters and who doesn't... by any means necessary.
Be careful though, because each choice you make can influence the fate of the club and its clients. You'll also need to keep your salary to avoid being evicted, to see your daughter again, and most importantly, to regain control of your life.
Be careful who you don't let in. Maybe their significant other is a big fish, or the rest of their group might decide to go to another club.
Dealing with VIPs won't be easy as they expect the royal treatment!
Beware of the people that enter the club. If you let rock fans in during an elite party, they may wreak havoc. The Box also organizes special events like St. Patrick's, a day where everyone can get drunk and enter the club.
Mystery game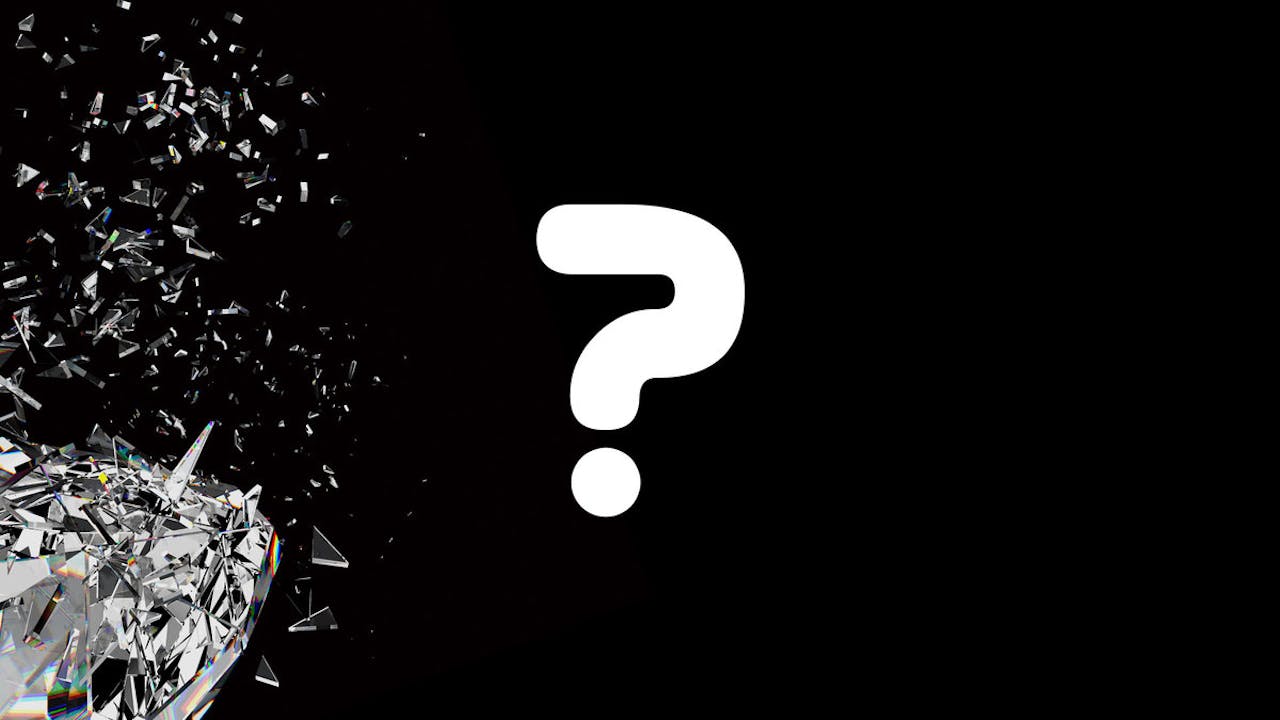 There are plenty of precious games to be found with your Diamond Mystery Game. Add some shimmering surprises to your collection!
Other options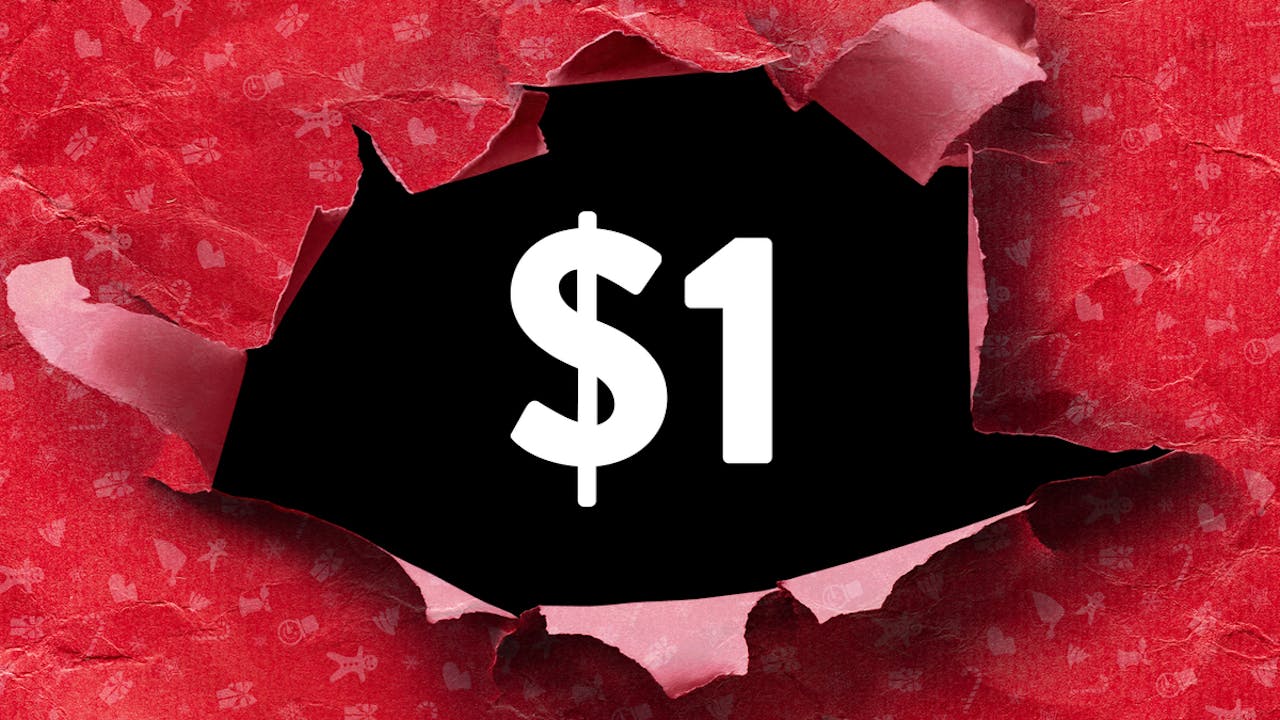 If you're not feeling any of the games above, you can also claim a $1 monetary voucher instead!
Please note that these game chooses may vary and are subject to availability.
---
---
Share this post