We had S.T.A.R.S in our eyes playing Capcom's new survival horror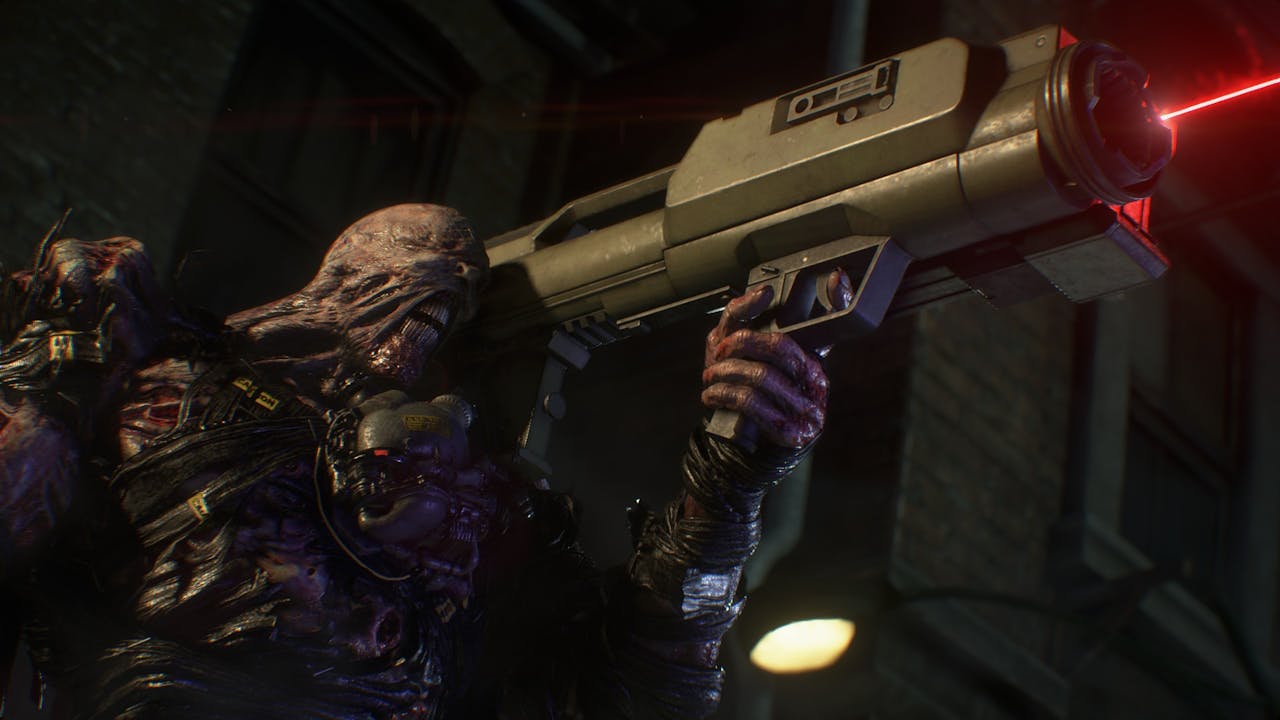 This remaster of Resident Evil 3 allows players — both new and old — to experience the classic game, but with better graphics and an added mode!
Poor Jill Valentine, after the events that occurred in the Spencer Mansion in the original Resident Evil, you'd think she was due a break from the nightmarish zombies, giant snakes and spiders, and that creepy Tyrant fellow... well, apparently not.
Deciding to stay in Raccoon City proved to be a bad choice for the heroine as the dreaded T-Virus has made its way into the city's main water supply, infecting potentially tens of thousands of civilians and turning them into the flesh-eating undead. In Resident Evil 3, we get to see Jill put her skills as a top S.T.A.R.S. member back into action.
It's been over 20 years since the original Resident Evil 3: Nemesis launched, and given the success of Capcom's Resident Evil 2 Remake, we were bound to see the third instalment revitalized. And so it did, the Resident Evil 3 Remake arrives on April 3rd, 2020, in all its remastered glory - and with Sasha Zotova as Jill's new character model.
We got hands on with the latest release in the survival horror series to see what Capcom had to offer following the great success of its previous remastered project.
Here's our review of the Resident Evil 3 Remake, and what it got right.
Intense survival horror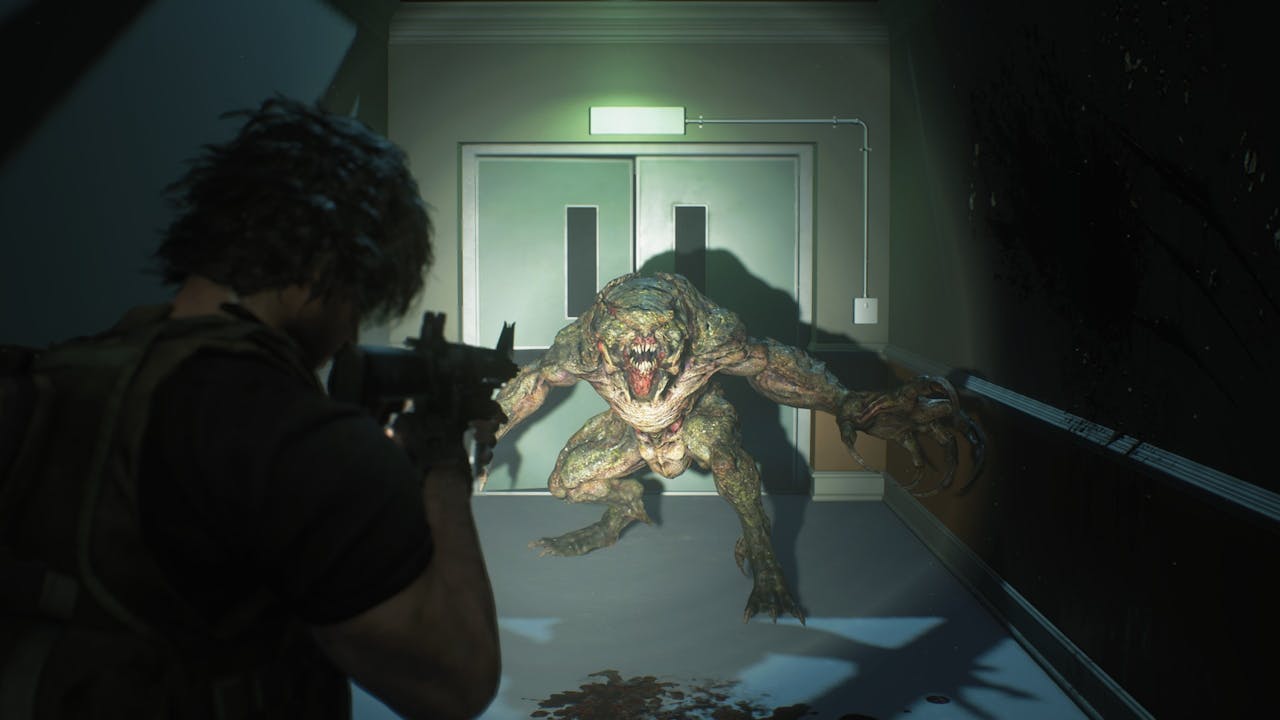 From the get-go, the Resident Evil 3 Remake gives you a brutal reminder of what awaits on the streets of Raccoon City and how the 'Pursuer' is going to make your life a living hell. As with the Resident Evil 2 Remake and the RE Engine, this game shares similar characteristics to its remastered predecessor - the zombies use the same movement patterns and, if you haven't played the previous game for a while or at all, you'll have to get used to these flesh eaters weaving around when you're trying to land a headshot.
A sound piece of advice that I'd give anyone in this game is to make use of your knife, which, unlike RE2, now has unlimited use. I found myself going through the motions of landing a few headshots on a zombie, who would then fall to the ground, and I would then stand a short distance away - near their feet - and begin slashing at their legs and torso.
If a zombie is due to reanimate, they'll do a little wiggle before they attempt to stand up. In most cases, they'd never get to above a crawling stance as the knife damage kills them off for good - so if you've got time, I'd definitely recommended this approach as it saves you tons of ammo.
I opted for the regular mode on my journey through the RE3 Remake - but if you need a helping hand and want to take a more 'tranquil' walk through the city, Assisted Mode (easy) offers assisted aiming, your health slowly regenerates after a certain amount of time, and you'll start the game with an assault rifle.
If you opt for hard mode, you absolute warrior, you'll find fewer item pick ups and enemies will deal more damage.
The inventory system is pretty much identical to RE2, and you can of course find extra hip pouches that gives you more space just in case you find yourself running back to save zones to deposit another red herb or 'fancy boxes' in storage.
It wouldn't be a Resident Evil game without a large array of mutated foes popping up here and there, and you'll be pleased to know that the Resident Evil 3 Remake is no exception. From the scuttling, face grabbing Drain Deimos in the substation power rooms to the agile zombie dogs howling in the streets, you're sure to find a good mix of enemies on your travels.
As expected, the Nemesis back... and if you haven't played the original Resident Evil 3 game, you're in for one hell of a ride. This seven foot tall Tyrant combined with a parasitic lifeform puts you on edge from the opening 20 minutes of the game, right up to the big confrontation at the end of the campaign.
If you played the Resident Evil 2 Remake, there's a similar vibe about the Nemesis to that of the fedora wearing Mr. X, they're both Tyrants after all, however the Nemesis is much stronger, quicker and brings a selection of weapons to the fight.
Running away from the Nemesis isn't enough, this creature can launch forward with attacks from mid range, and I've lost count of the amount of times it's punched me in the back of the head. Nemesis also has the ability to leap in front of you, cutting off entrances to buildings and forcing you to face it head on - the sound option in these scenarios is to use nearby traps to stun him or perform dodges (more on these features below).
Due to the parasite thriving within its body, the 'Pursuer' also has a few extra tricks up its slimy mutated sleeve. Not only can it form a tentacle-like limb from its arm to grab you - pulling you to the floor and making you vulnerable to a follow up attack - it can also pass its parasitic virus onto nearby zombies, which stand out among the crowd with a large parasite attached to their heads.
These zombies are tricky to take down, especially if you're being pursued by the Nemesis and other zombies within close proximity. They have one weak spot, a yellow eye, but its mouth/trap covers this for protection - you have to shoot the body to open up said trap in order to kill it... or send it packing with the grenade launcher!
Those of you who played the RE2 Remake post-release content 'The Ghost Survivors' will recognize the next eerie foe that I'm talking about, the Pale Heads. These monstrosities show up in the latter stages of the game and can move much quicker than the trademark zombies seen before.
Plus, they also have the ability to regenerate after being damaged, much like those creepy ass Regenerators in Resident Evil 4. You'll go through a ton of ammo if you try to take them down with a pistol, so try to use the Magnum, shotgun or grenade launcher instead.
Another big change from the original is the extra time you'll get with secondary playable character Carlos Oliveira, a U.B.C.S. mercenary and all-round good guy, as it turns out. You take control of Carlos on two pretty lengthy spells, one in your return to the Raccoon City Police Department (no Mr. X thankfully), and the second during your 'stay' at the Raccoon City Hospital.
The latter is where Carlos faces one of the game's creepiest and strongest non-boss enemies, the Hunter β. Unlike the sluggish Hunter γ variant that Jill faces in the sewers below the city, the Hunter β is an agile frog-like monster that can one-hit kill you with its devastating leaping swipe attack.
The shotgun and grenade launcher are suitable weapons against this Hunter breed as their weak spot (the head) is rarely in sight, given the fact that they dash from side to side and generally move a great pace.
There's one point in the hospital where you'll have to fend off zombies in an isolated reception, similar to the horde-like modes that we've seen in various games over the years. This really tests your combat skills and awareness within such a small, zombie-filled space and, unfortunately, there are no wooden boards this time around to barricade those windows!
You may not head to every location from the original game or face every enemy, but the Resident Evil 3 Remake still amplifies that intense survival horror that you're craving.
---
---
Share this post