Grand Theft Auto V's latest online heist arrives next week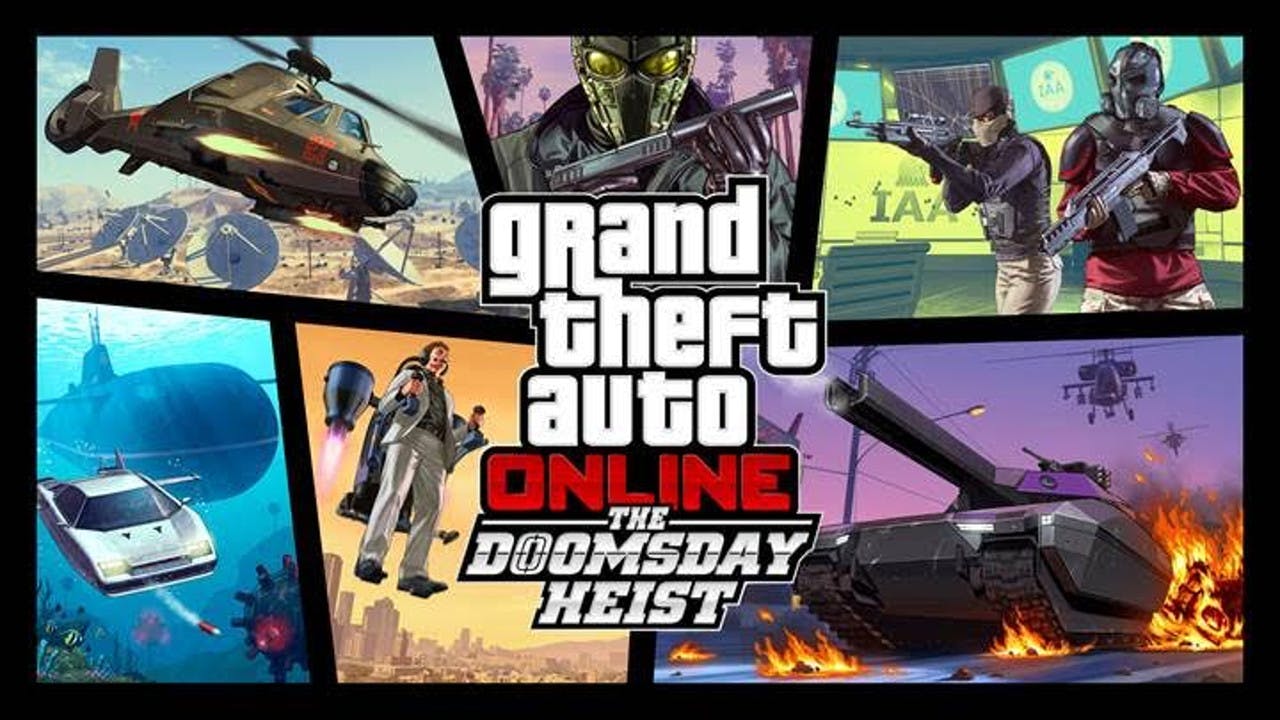 <a href="https://twitter.com/Fanatical?ref_src=twsrc%5Etfw" class="twitter-follow-button" data-show-count="false">Follow @Fanatical</a><script async src="https://platform.twitter.com/widgets.js" charset="utf-8"></script>
The sixth heist in Grand Theft Auto V's online multiplayer mode - GTA Online - has been officially announced by developer Rockstar Games, taking players on an action-packed journey to save a city from complete destruction.
Expect the usual thrills and spills on GTA Online gameplay with hi-tech jets, tanks and hacking software in this latest venture - there's even official jetpacks and flying cars in this one!
About The Doomsday Heist
Apocalyptic threats from unknown enemies sees the forging of an unlikely alliance to save San Andreas from total annihilation in GTA Online: The Doomsday Heist. The fate of the city rests on a billionaire tech mogul, an idealistic intelligence agent, a socially awkward conspiracy theorist and a neurotic supercomputer called 'Clifford'.
Players and their criminal crew are enlisted to un-tangle the mysteries and eradicate threats. From the bustling streets of downtown Los Santos and the ocean floor to the inner depths of Mount Chiliad, players will feel as if they've been dropped in the middle of a blockbuster spy film.
When is The Doomsday Heist available?
The Doomsday Heist will be available on PC, Xbox One (X) and PlayStation 4 from December 12th.
What are GTA Online Heists?
If you haven't taken part in GTA Online Heists yet, let's recap. GTA Online Heists involve players working together to complete an over-arching objective over a series of set-up missions - eventually leading a finale mission. The Heist Leader selects the group's plans and tactics for each set-up mission.
However, unlike the other three members, the Leader does not receive bonus payments after completing each set-up mission. Instead, they receive a percentage of the final take from the finale mission, which is often a tidy sum.
Prior to The Doomsday Heist, Rockstar Games have released five GTA Online Heists:
The Fleeca Job
The Prison Break
The Humane Labs Raid
Series-A Funding
The Pacific Standard Job
Heists are a great way of earning a large amount to spend on apartments, weapons and flash vehicles. Don't forget, you can also get millions of dollars instantly with the in-game Cash Cards too.
---
---
Share this post