What is featured in Jackbox Games' latest pack, system requirements and more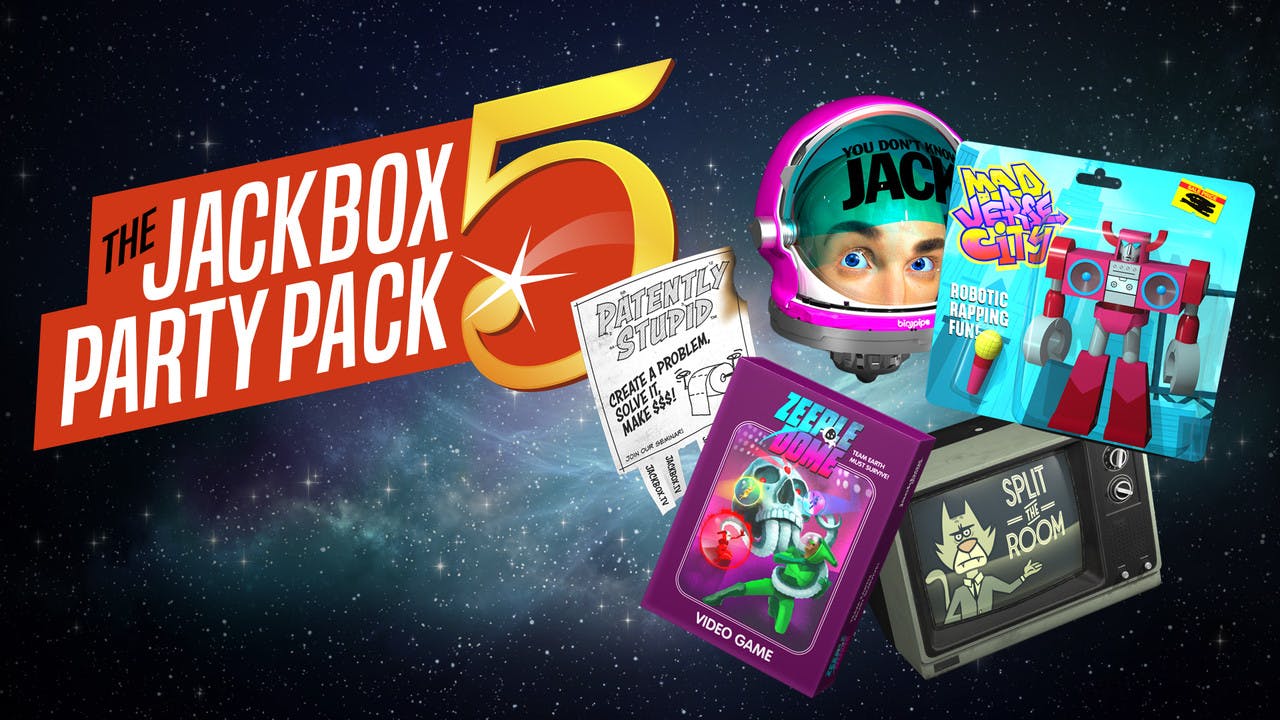 Give your game library the five-star treatment and have a blast with your The Jackbox Party Pack 5 Steam PC key. Includes five party-saving games to enjoy!
If you're looking for gaming fun for all the family, you'll be pleasantly surprised to hear that a brand new Jackbox Party Pack is arriving in two weeks' time.
The Jackbox Party Pack 5 is the 'biggest Party Pack yet' and features five new party-saving games to enjoy with fellow gamers, friends and family from the comfort of your own home. Ahead of its launch on October 17th, we've got details on what games are features in the Party Pack, as well as system requirements to run it.
What's included in The Jackbox Party Pack 5
The games featured in The Jackbox Party Pack include:
YOU DON'T KNOW JACK: Full Stream - A 1-8 player pop-culture trivia mash-up, full of wild new surprises.
Split the Room - Create strange and divisive hypothetical situations in this what-if game for 3-8 players.
Mad Verse City - A lyric-writing game Mad Verse City for 3-8 players, where you'll be tasked with channeling your inner MC as a rap battling robot.
Patently Stupid - A competitive drawing game for 3-8 players. You'll need to create odd inventions to solve bizarre problems.
Crab Nebula, Zeeple Dome - A 1-6 player game where you must fling yourself at bloodthirsty aliens to win millions of Zubabucks, it's the deadliest game show in the galaxy!
System requirements
Windows minimum:
OS: Windows Vista SP2+
Processor: 2.66 Ghz Core 2 Duo or Greater
Memory: 4 GB RAM
Graphics: GeForce 500+ / Radeon 5000+ or Greater
Network: Broadband Internet connection
Storage: 3 GB available space
Windows recommended:
OS: Windows 8.1+
Processor: 2.33 GHz Quad Core or Greater
Memory: 8 GB RAM
Graphics: GeForce 600+ / Radeon 6000+
Network: Broadband Internet connection
Storage: 3 GB available space
Linux minimum:
OS: Ubuntu 16.04
Processor: 2.66 Ghz Core 2 Duo or Greater
Memory: 4 GB RAM
Graphics: GeForce 500+ / Radeon 5000+ or Greater
Network: Broadband Internet connection
Storage: 3 GB available space
Linux recommended:
OS: Ubuntu 18.04
Processor: 2.33 GHz Quad Core or Greater
Memory: 4 GB RAM
Graphics: GeForce 500+ / Radeon 5000+ or Greater
Network: Broadband Internet connection
Storage: 3 GB available space
---
---
Share this post