Who is the true Champion of Chaos?
What do you want, my champion?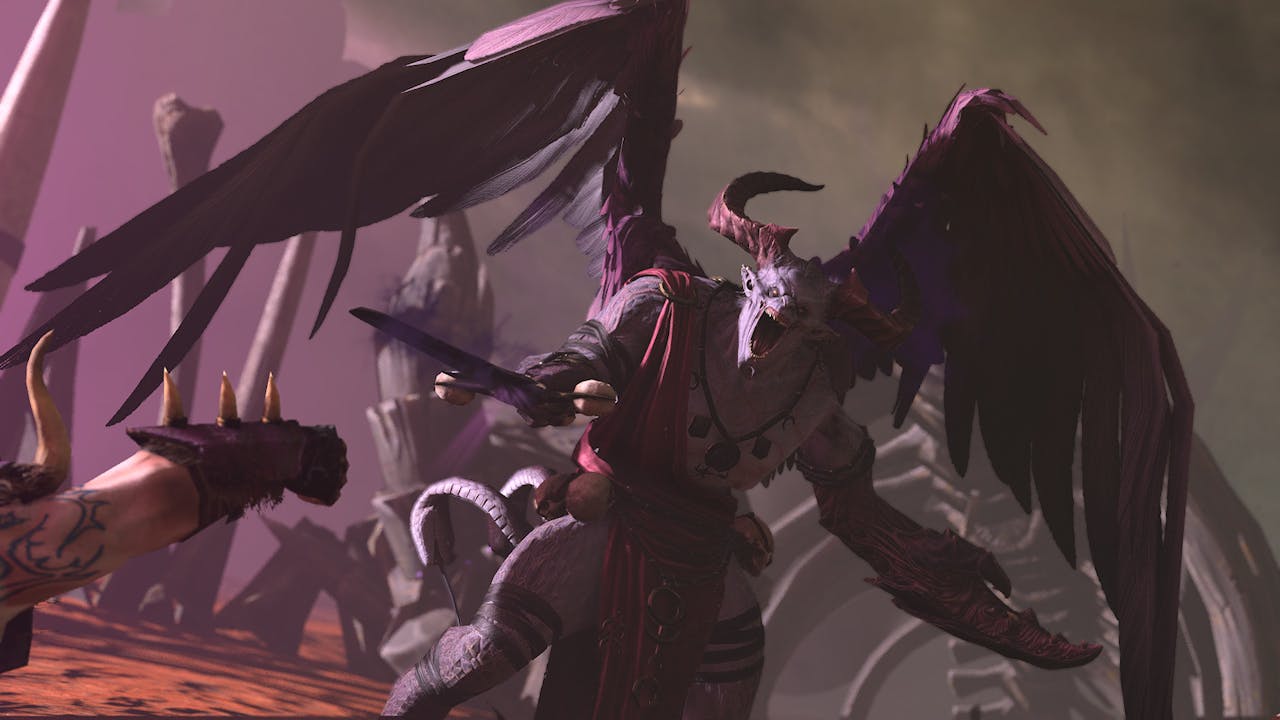 The Champions of Chaos Lords Pack introduces four new playable Legendary Lords to Total War: WARHAMMER III, usable in both the Realm of Chaos and Immortal Empires campaigns.
Chaos is defined as complete disorder and confusion, but in the universe of Warhammer, it is a corruption wielded by the Gods. Khorne, Nurgle, Tzeentch, and Slaanesh wrestle for dominance and pick champions to fight in their place. Mortals are elevated and given power beyond comprehension to rain anarchy upon the world. In the upcoming DLC, Champions of Chaos, for Total War: Warhammer III, four of these champions will join the game.
Valkia the Bloody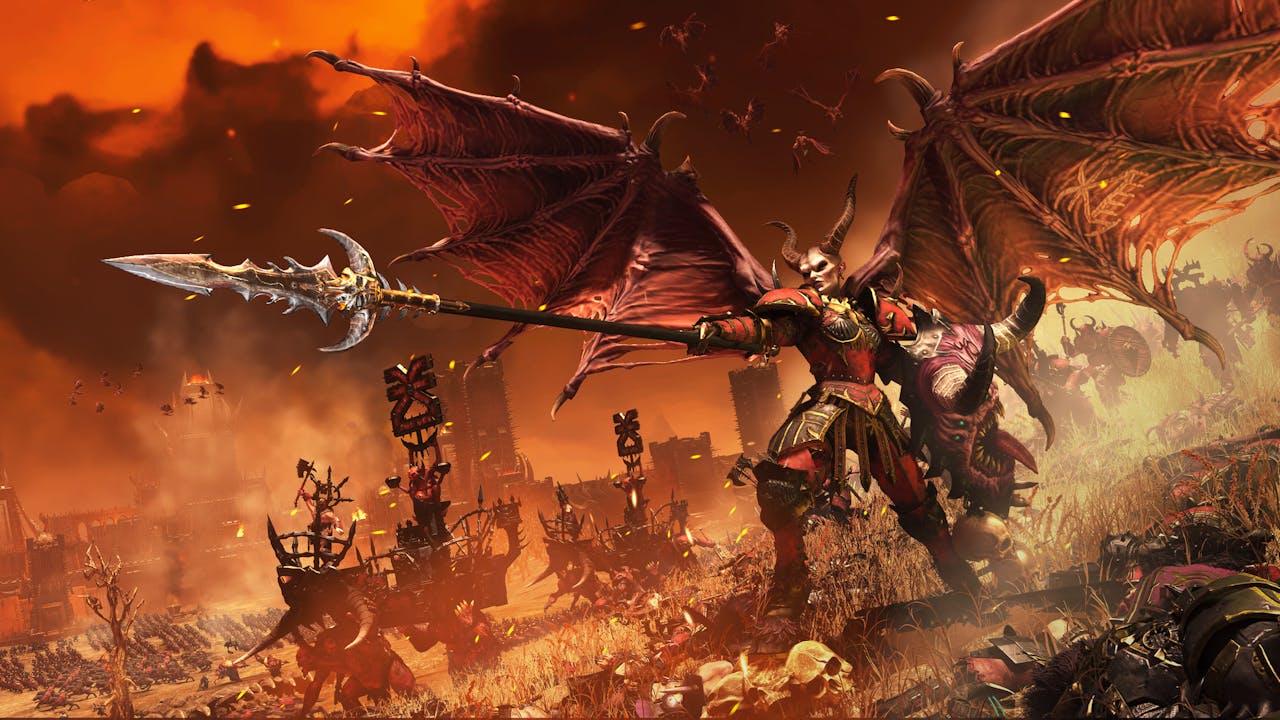 In life, Valkia needed no gifts from the gods to establish her rule. Both beautiful and feral, the chieftain of the Norscan tribe, Schwarzvolf, vanquished opposing tribes in the name of the Blood God. Even when faced with the Daemon Prince of Slaanesh, Locephax, who thought himself capable of taming her, the Sword-Maiden did not back down. A mortal woman severed the head of Locephax and vowed to lay it at the base of the Skull Throne. On her journey, the forces of Slaanesh came to get their revenge and she was torn to pieces so close to the portal she sought. Despite her failure, Khorne was so pleased with her devotion that he took her soul and reforged it into a Daemon Prince. So Valkia became the Dread-Consort of Khorne.
Though impressive in her own right, Khorne ensured his consort would be feared on the battlefield.
Faction Effects:
Access to Bloodletting, a mechanic that grants various bonuses like increasing casualty replenishment and reducing army upkeep.
+20% Campaign movement range after a victorious battle.
+50% Souls gained from captive sacrifices.
Vassals gain Frenzy.
Lord Effects:
+35% Campaign movement range after enemy retreat.
Combat:
Passive Ability: The Gaze of Khorne. Nearby warriors will receive increases to base weapon damage, armour piercing, and leadership.
Daemonshield: grants temporary invulnerability.
Spear of Slaupnir: manifests eruptions along a straight line on the ground.
Flying Unit.
Festus the Leechlord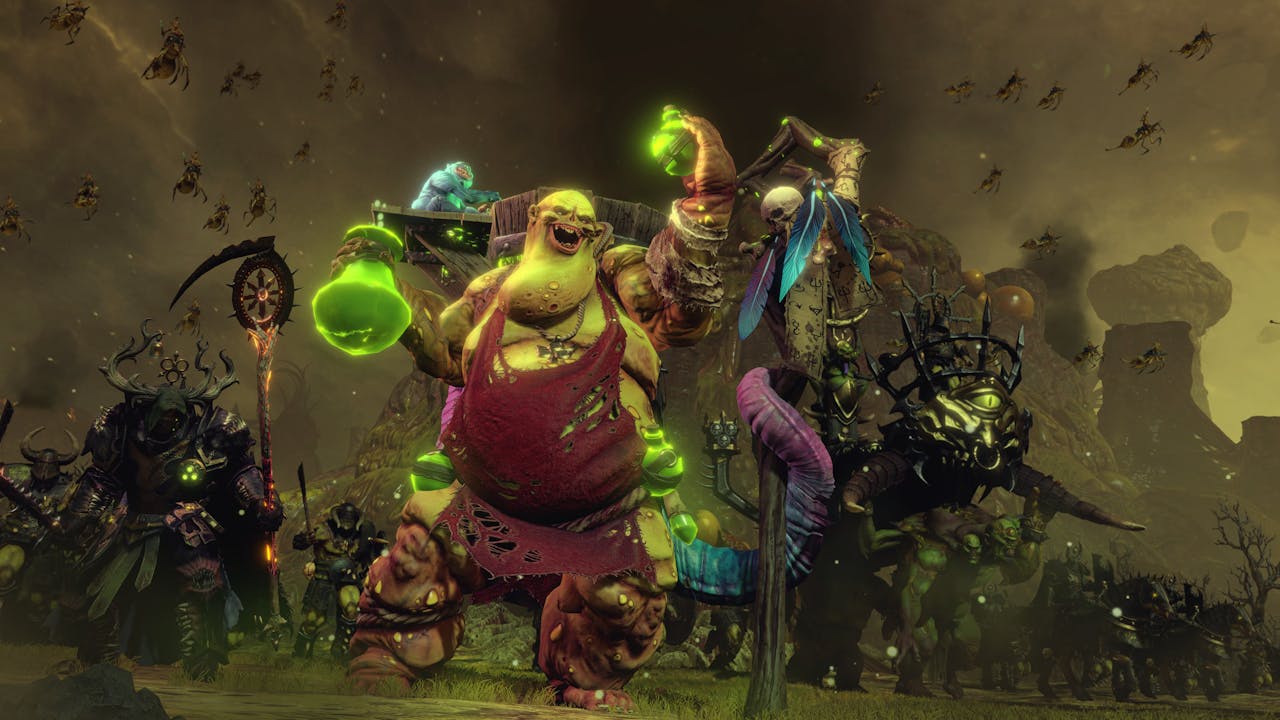 Looking at the design of this mad scientist, he appears comically grotesque but the tale of how he became this way is actually quite heartbreaking. "Dokter Festus" was once a renowned healer, compassionate and dedicated to saving the lives of others. Outbreaks of Screaming Ague, Blacklegge, and even Ghoulpox were quelled through his efforts, but it was Gnashing Fever that broke him. As the last of his patients succumbed to this plague he called out for help to whatever god would listen, but it was Nurgle who answered. The god of plague offered Festus knowledge in exchange for his service. The humanity and compassion that pushed Festus to accept this deal were wiped away and his mind was drowned in the details of every known sickness, ailment, and plague. The Dark Apothecary now performs twisted experimentations on any unlucky enough to fall into his hands.
Old Sawbones did put his new knowledge to "good" use though.
Faction Effects:
Access to Plague Brewing, a mechanic that puts debuffs on settlements and armies.
+25 Souls when plague is spread.
Vassals gain poison attacks.
Lord Effects:
+3 turns to Plague duration (Local Armies).
+25% to battle healing cap (Lord's Army).
Combat:
Potions: A variety of potions will be available to use in combat.
Spells: Lore of Nurgle spells can be learned.
Vilitch the Curseling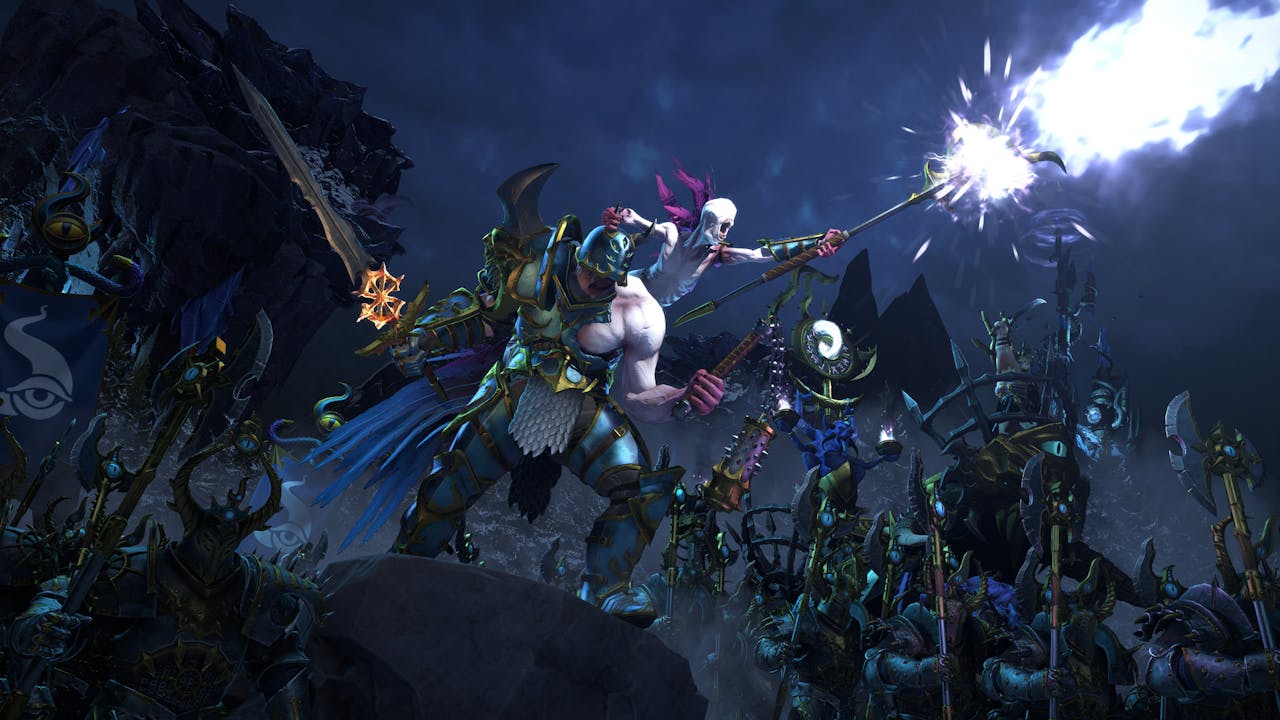 Though they might be twins, the brothers Thomin and Vilitch could not be more different. Thomin was born strong and went on to become a capable warrior whereas Vilitch was a weak runt that was punished harshly for his fate. After years of being beaten and treated as an outcast for the crime of being born significantly weaker than his twin, Vilitch's prayers to the Architect of Fate were answered. Tzeentch, the Great Sorcerer and Changer of Ways could not pass up on this opportunity to bring anarchy into this world. The brothers were fused together, Vilitch's magical powers grew exponentially, and Thomin's muscled body gained colossal strength but his mind was destroyed — he became a puppet to be wielded by his twin.
Tzeentch was not stingy with the power he offered The Twisted Twin.
Faction Effects:
Access to Changing of ways, a tech tree that opens up options for things like tracking armies, reveal shroud, and more.
Access to Tzeentch teleport stance, a powerful mechanic for traversing the map and ambushing armies.
Bonuses to forces when having high Winds of Magic.
Partial own battle casualties converted into Souls.
Vassals gain increased barrier hit points.
Lord Effects:
Steal +15% of experience earned by other lords.
-25% Winds of Magic usage cost for teleport stance (Lord's Army).
Combat:
Passive Ability: The Twisted Twin. Spell mastery, melee attack, and melee defence are increased the longer they are involved in close combat or casting spells.
Azazel, Prince of Damnation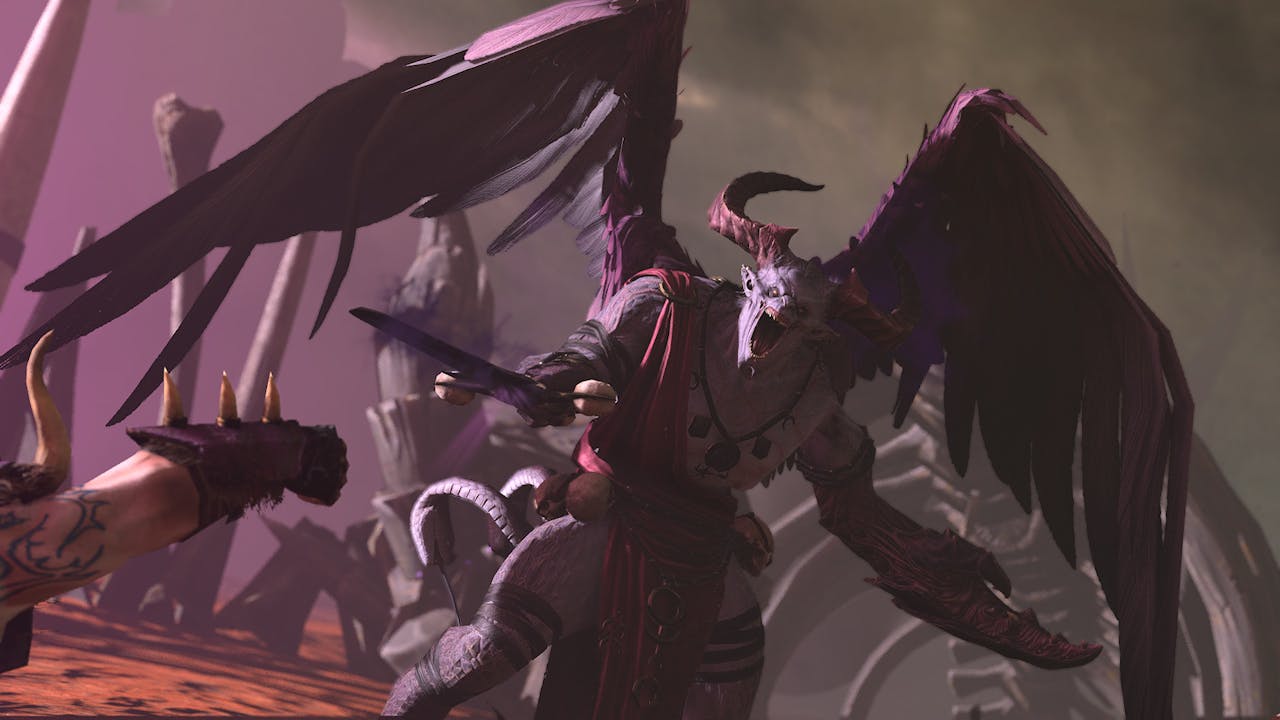 Though once a mortal man by the name of Gerreon, Azazel is now known for his irresistible beauty, able to tempt and draw out the desires of any who look upon him. This twin was set on this road not by persecution but rather by the desire for revenge. After his brother died in battle, Gerreon spent many years plotting his vengeance against the commander his brother served under, earning his trust and friendship only to stab him in the back. After his unsuccessful attempt to poison the commander he fled and found asylum within enemy forces, where a sorcerer named him a great champion of Chaos and gave him his new name, Azazel. His service to Slaanesh and victory over a champion of Khorne led to his ultimate ascension as a Daemon Prince.
Azazel's ascension magnified his abilities, making him a greater force to be reckoned with.
Faction Effects:
Access to seducing units
Seductive Influence and Gifts of Slaanesh bonuses.
+80 diplomatic relations with Empire, Kislev, Cathay, and Bretonnia.
Vassals gain Immune to Psychology.
Lord Effects:
-20% Seduce Units cost for Empire, Bretonnia, Kislev, and Cathay units.
+25% Seduce Units budgets.
Combat:
Passive Ability: Domineering Aura. Places debuffs on nearby enemy units.
Temptator: temporary ward save that reflects damage.
Spells: Lore of Slaanesh spells can be learned.
Flying Unit.
The Champions of Chaos Lords Pack introduces four new playable Legendary Lords to Total War: WARHAMMER III, usable in both the Realm of Chaos and Immortal Empires campaigns.
The Gods of Chaos were generous with the gifts they bestowed upon their champions. Each of them so different but equal in their devotion to their patrons. Champions of Chaos is out now; it is up to you to decide who is your ultimate Champion of Chaos.
---
---
Share this post