Why Manga and Anime Fans Will Love This Manga Bundle
Lone Wolf and Cub, Lady Snowblood, and more!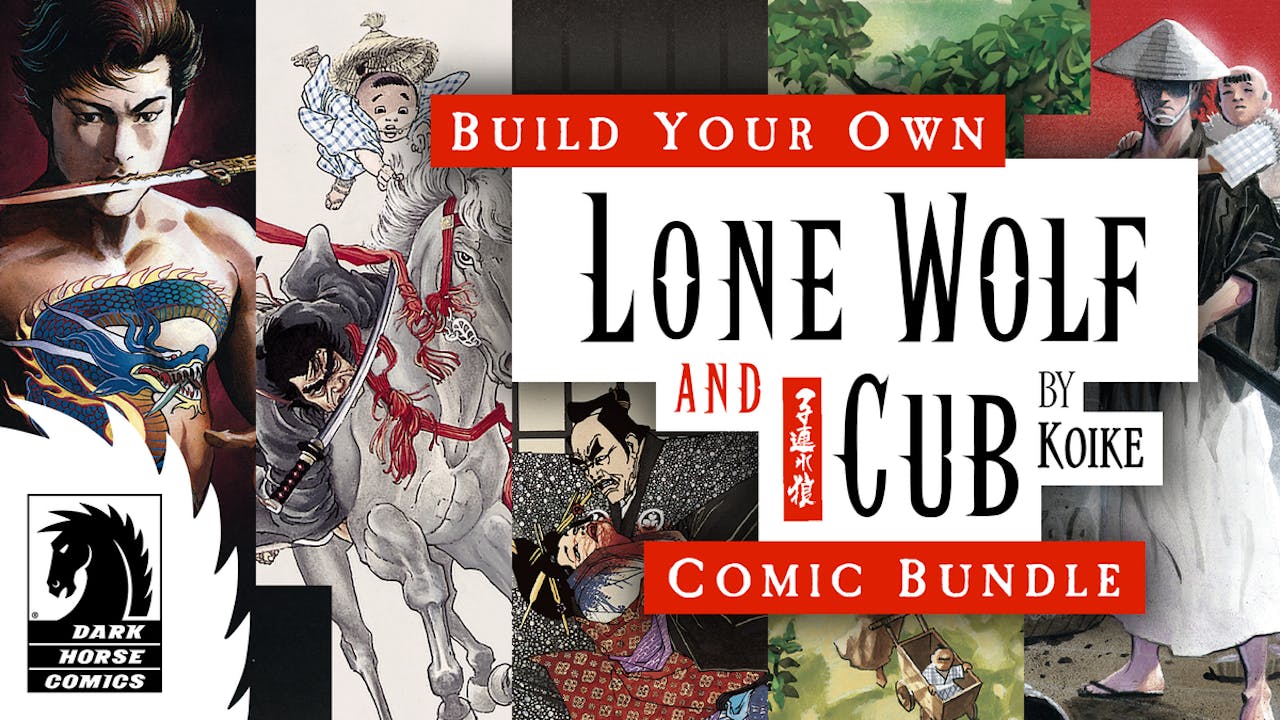 Lone Wolf and Cub, a seminal work in the realm of manga, continues to resonate with anime and manga fans even several decades after its original publication, making the Build Your Own Lone Wolf and Cub Comic Bundle ideal for anyone. Inextricably linked to iconic titles like Samurai Executioner, Lady Snowblood, and Crying Freeman, Lone Wolf and Cub carries a timeless appeal that transcends generations.
The manga follows the story of a disgraced samurai who is forced into a life of wandering and assassination — always accompanied by his young son. Driven by themes of honour, morality and the harsh realities of the world, Lone Wolf and Cub consistently presents a thought-provoking narrative that captivates its audience.
One factor contributing to the manga's enduring relevance is its intricate and immersive storytelling. Much like the mangaka team's later work Samurai Executioner, Lone Wolf and Cub masterfully delves into the world of samurai — a world filled with stories of honour, duty and tragedy. Can you tell that honour is a big part of samurai life yet? This exploration of the samurai code continues to captivate readers, offering compelling insights into a unique facet of Japanese culture. This is expanded with the back of each volume giving a summary of Japanese terms used throughout the manga.
Furthermore, Lone Wolf and Cub shares thematic similarities with titles such as the writer's later manga Lady Snowblood and Crying Freeman (also available in the bundle!). These works, renowned for their exploration of vengeance and redemption, have long resonated strongly with manga and anime fans. Lone Wolf and Cub speaks in the same rich, emotional language, its narrative imbued with a deeply personal quest for justice.
The manga's timeless quality can also be attributed to its exceptional character development. The relationship between father and son forms the series' emotional core, evoking a profound sense of sympathy in readers. This emotional depth, a shared attribute with influential titles like Crying Freeman, ensures that Lone Wolf and Cub remains a relevant and respected work in the manga arena.
You can get an extra 15% off of this and other bundles until the end of August with the coupon code GN7abv4fLLhf ! Find the terms & conditions here.
So, if you're in the mood for a whole lot of manga covering thousands of pages,from the likes of Lone Wolf and Cub, Samurai Executioner, Lady Snowblood, Crying Freeman and more, it's an essential purchase for any manga or anime fan. With its combination of gripping action, intricate storytelling and emotional resonance, Lone Wolf and Cub stands apart as one of the greatest samurai epics of all time.
---
---
Share this post