Get festive with your own VR headset and games worth over $750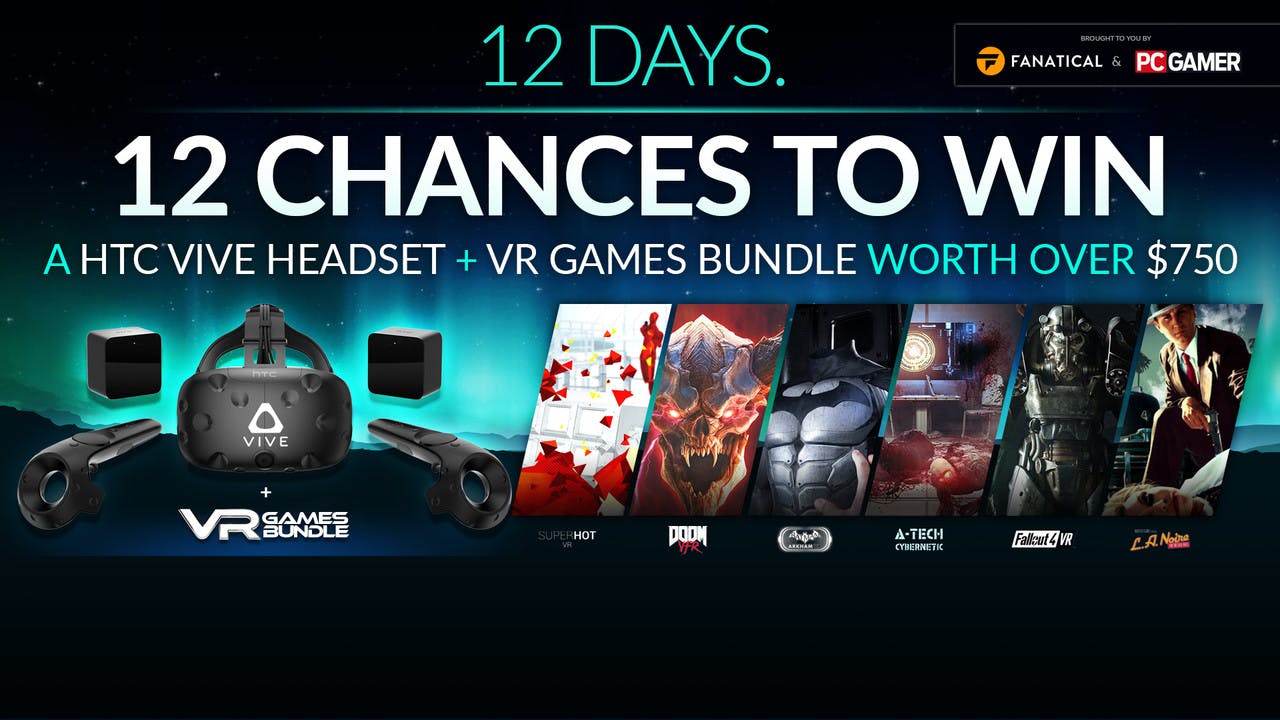 One super lucky person will get the chance to win a HTC Vive and VR games to go with it in our latest competition - how about that for a festive surprise!
As well as the Vive headset, our lucky winner will get Steam Keys for Fallout 4 VR, DOOM VFR, Batman Arkham VR, SUPERHOT VR, A-Tech Cybernetic and L.A. Noire: The VR Case Files - which should give you plenty of game-time leading into 2018. Entering for your chance to win couldn't be simpler, all you have to do is enter below - the closing date is January 4th 2018.
Here's how to enter
The games
Fallout 4 VR
Fallout 4, the legendary post-apocalyptic adventure from Bethesda Game Studios and winner of more than 200 'Best Of' awards, including the DICE and BAFTA Game of the Year, finally comes in its entirety to VR. Fallout 4 VR includes the complete core game with all-new combat, crafting, and building systems fully re-imagined for virtual reality. The freedom of exploring the wasteland comes alive like never before.
As the sole survivor of Vault 111, you enter a world destroyed by nuclear war. Every second is a fight for survival, and every choice is yours. Only you can rebuild and determine the fate of the Wasteland. Welcome home.
DOOM VFR
Developed by id Software, the studio that pioneered the first-person shooter genre and modern VR, DOOM VFR brings the fast-paced, brutal gameplay fans of the series love to virtual reality. Immerse yourself in the UAC facility on Mars and the depths of Hell, as your skills are put to the test through intense combat and challenging puzzle-solving.
Play as a cybernetic survivor who is activated by the UAC to fight the demon invasion, maintain order, and prevent catastrophic failure at the Mars facility.
Batman Arkham VR
Experience Gotham City through the eyes of the world's greatest detective in Batman Arkham VR, and redefine what it means the be the Batman as the Arkham series comes to VR with an all new mystery. Immerse yourself in the Dark Knight's universe as you are forced to think like Batman and utilize his legendary gadgets in virtual reality to unravel a plot that threatens the lives of his closest allies.
SUPERHOT VR
Blurring the lines between cautious strategy and unbridled mayhem, SUPERHOT VR is the definitive VR FPS in which time moves only when you move. No regenerating health bars. No conveniently placed ammo drops. It's just you, outnumbered and outgunned, grabbing the weapons of fallen enemies to shoot, slice, and maneuver through a hurricane of slow-motion bullets.
A-Tech Cybernetic
A FPS built from the ground up for glorious VR gameplay, A-Tech Cybernetic features two separate game modes: a classic swarm mode to put your shooting and survival skills to the test, and a story mode that takes you to a futuristic biomedical company overrun by mutants. Control everything with real-life movements, interact with your surroundings as if they were actually there, and experience a new kind of gameplay that's more immersive than ever before.
L.A Noire: The VR Case Files
L.A. Noire: The VR Case Files places you directly in the shoes of Detective Cole Phelps as you solve brutal crimes, plots and conspiracies inspired by real cases from 1947 Los Angeles - one of the most corrupt and violent times in the city's history. Featuring seven cases rebuilt specifically for virtual reality, L.A. Noire: The VR Case Files for HTC Vive adds new layers of immersion and realism to Rockstar Games' atmospheric crime thriller as you solve select cases from the blockbuster original game, spanning mysteries from the detective desks of traffic, arson, homicide and more.
---
---
Share this post