The Fanatical
Blog
Latest AAA, Indie & Game Bundles
Receive Games Instantly
Save Money
100% Authentic Keys
Wolfenstein: Youngblood will be 'uncensored' in Germany
By Sam Jones - 26th Jun 2019Games
A first for the action FPS series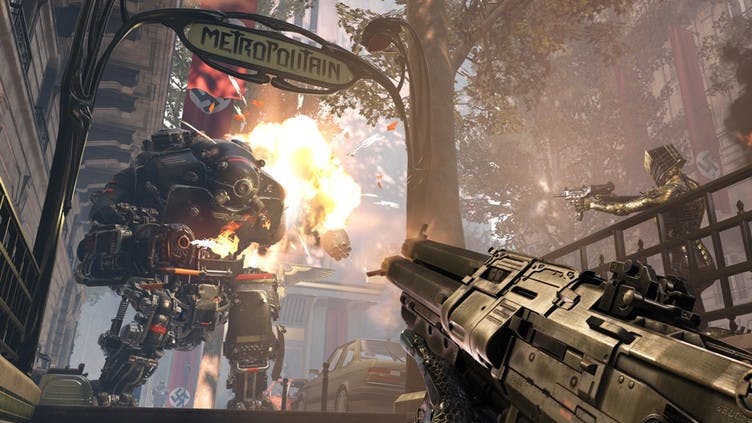 Join the Terror Twins as they take on the Nazis in brutal combat with FPS Wolfenstein: Youngblood. Grab your PC key now and help liberate New-Paris!
Germany has played a big part in the Wolfenstein franchise, what with its games being set in an alternate timeline where Nazis rule over the US, but up until now the country's governing bodies for video games has rejected any reference to the Nazi regime appearing in Germany-released versions of Wolfenstein games.
But, that appears to have changed as a recent post on the Bethesda Community Forum has confirmed that Wolfenstein: Youngblood and its VR equivalent, Cyberpilot, will have an uncensored version available in Germany - a first for the Bethesda-led series.
The initial ban on swastikas, Nazi symbols and references and even Hitler's moustache in Wolfenstein II: The New Colossus was lifted by the USK back in August 2018 - but developers Machine Games and Arkane Studios decided to build two versions of the game in case the uncensored version of Youngblood was somehow rejected.
In the forum, Bethesda Community Manager Psykora said "We are pleased to announce that Wolfenstein: Youngblood and the VR subsidiary Wolfenstein: Cyberpilot will also be released for the first time as an international version in Germany on Friday, July 26, 2019 parallel to the German-language version. The USK (entertainment software self-control) has after submission for both variants the age identification "from 18" ("No youth release according to §14 JuSchG.") Confirmed.
"Both versions are, as in the past, the same content in terms of their explicit representation of the effects. The original international version is available in English.
"The USK bodies' first-time assessment of this version was made possible by a change in USK's testing practice, which takes into account the so-called social adequacy clause of Section 86a (3) of the Criminal Code (StGB). However, since the release is always an individual case decision based on the final product, the development continued to work on both versions, which will be released at the same time.
"These are each independent developments. For this reason, a conversion from the German version to the original international version and vice versa is not possible."
Feeling a bit confused by that quote from the forum? Here's the breakdown.
German gamers will be able to choose either the censored or uncensored version of Wolfenstein: Youngblood, with the uncensored version available as standard to other regions worldwide.
The original uncensored version, from our understanding of the translated forum post, will also only be available in English.
Wolfenstein: Youngblood is a spin-off game set 19 years after the events of Wolfenstein II: The New Colossus, in which former protagonist BJ Blazkowicz has gone missing. His daughters Jess and Soph Blazkowicz AKA the 'Terror Twins' must take up arms and travel to Nazi-occupied Paris to discover what happened to their father, and kill a few Nazi soldiers along the way.
The game is said to feature the most 'open-ended' experience in the Wolfenstein franchise to date, with new abilities, weapons, gadgets and cosmetics to unlock in single-player and co-op story modes.
---
Share this post
Enter a dark fantasy world and become a masterful assassin with your Styx: Master of Shadows Steam PC key. Build up your skills via six unique skill trees in order to sneak, steal and take down...
Enter a dark fantasy world and become a masterful assassin with your Styx: Master of Shadows Steam PC key. Build up your skills via six...
Enter a dark fantasy world and become a masterful assassin with your Styx:...
Ends in
35

:

14

:

45
or until sold out
Subscribe to our Email Newsletter to get Fanatical promotions direct to your inbox.
You can unsubscribe via the newsletter at any time. By subscribing to our newsletter you agree to our Privacy Policy.