Plus one of the most requested civilizations is added to the mix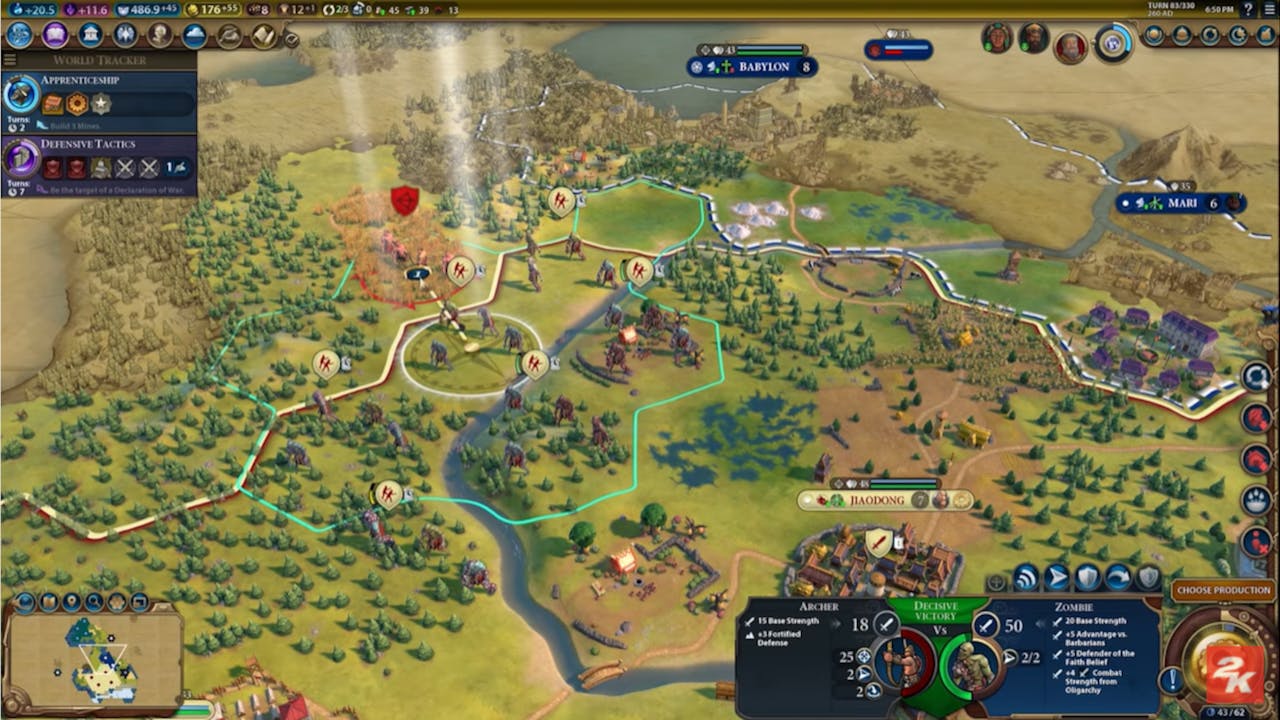 Continue your quest to build your greatest empire with the Civilization VI - New Frontier Pass, featuring eight new civilizations and nine new leaders, and a variety of new...
The sixth DLC pack of Sid Meier's Civilization VI - New Frontier Pass has certainly surprised gamers - not only for the fact that one of their most requested civilizations/countries will be added to the roster, but also the fact that the undead are now walking among us!
Yes, you read the headline correctly, zombies will now be appearing in Firaxis Games' popular strategy Steam PC title. An optional 'Zombie Defense Mode' will arrive as part of the latest pack update, in which the dead rise to wreak havoc among the living.
Players will need to use their new defensive structures to protect their territory and manipulate zombies to slow down AI and online opponents. As stated in the Civ VI Developer Update video, every enemy slayed in combat when playing in this particular mode has the opportunity to return as an undead, flesh eating warrior.
Fortunately for you, the new trap and barricade improvements allow you to take out zombies who pass through or near said traps/barricades, which can be built on either owned or neutral ground.
Away from the brain-eating antics, players will now be able to play as Portugal - known for its fast naval empire and powerful port cities. A new Portuguese World Wonder, Torre de Belem (Belem Tower), as well as the Etemenanki from the ancient city of Babylon.
The Torre de Belem grants additional Gold and Great Admiral points per turn, and gives a free building to any city that you own on another continent - while the Etemenanki grants additional Science and Production to Marsh and Floodplain tiles in your city, as well as an additional bonus to your whole empire.
Pack six also deliver a new map script 'Wetlands' which adds new strategic challenges and defensive possibilities. Whether you're psyched about finally playing as Portugal - or itching to fight zombies and send them running into enemy territory - you'll be able to experience all of this when the latest pack for the Sid Meier's Civilization VI - New Frontier Pass arrives on March 25th.
The Frontier Pass requires the Sid Meier's Civilization VI base game in order to play. Why not treat yourself to the Sid Meier's Civilization VI Platinum Edition, which includes the base game, six DLCs and two major expansions - Sid Meier's Civilization VI: Rise and Fall DLC and Sid Meier's Civilization VI: Gathering Storm.
---
---
Share this post